How to Make a Baby Car Seat Cover Replacement
Free Baby Seat Patterns Online
Even beginners can learn how to make a baby car seat cover replacement for that old, stained cover that makes you cringe every time you buckle your baby up for a ride. Why register for a sewing class at the local community center or college when you can watch a demonstration with instructions for how to make a handmade, infant car seat cover using FREE baby seat patterns online in the comfort of your home.
If your sewing skills rank somewhere in the range of the moderate to intermediate level, you probably can figure out how to make a baby car seat cover on your own.
To make the project easier, we have some tips, tutorials and instructions that include advice for how to draw your own free sewing pattern for a baby car seat cover, the pattern numbers of inexpensive commercial patterns, ways to check that your homemade replacement cover is safe for use and advice on fabric selection.
Some of the moms that visit our website say that they draw their own free sewing patterns simply by using paper to draw the outlines of their infant's car seat (with added seam allowance) to cut accurate pattern pieces. The best way to guarantee perfectly fitted
infant car seat replacement covers
is to take the old cover, pick the seams apart, press the separate pieces and use them to draw your pattern.
Go here to see more
baby car seat sewing patterns that include patterns for baby slings, diaper bags and other accessories in the package.
For those of us who are not confident with that process or that simply don't have the time learn how to make a pattern, it may save a lot of time and frustration to buy a ready made pattern that will have instructions included to demonstrate how to make a baby car seat cover. I have only used one baby car seat cover pattern, Simplicity baby car seat pattern number 3712.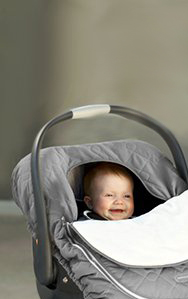 This pattern included instructions for how to sew a baby car seat cover as well as a pattern for a baby sling and a stroller cover.
Winter Baby Car Seat Cover Information
McCalls has free directions to make newborn baby head support and car seat cover online but the only pattern that I located for how to make a baby car seat cover is obsolete.
How to Replace an Old Baby Car Seat Cover That Fits if You Don't Have a Pattern
HERE
is a tutorial on recovering a baby car seat that will take you through the process step-by-step.
If you don't have a pattern, don't want to spend the money to buy one and want to replace that old, stained cover; you can make your own pattern.
It will be time consuming as you will have to
carefully
pick apart all of the separate pieces of the old cover, separate them from the batting in between the layers and remember exactly how they all fit together.
The process is tedious as you will see but the benefits are great in that you will most likely get the best fit possible and it should work for any and all brands
Commercial Baby Car Seat Cover Patterns
Here is a list of the infant car seat cover patterns that I know to exist. Some of them are out of print, so you may have to search online auctions.
SIMPLICITY PATTERN NUMBER 3712
KWIK SEW PATTERN NUMBER 2470 - This pattern includes sewing patterns and instructions for infant car seat covers, stroller covers and newborn baby head support pillows
MCCALLS PATTERN NUMBER 4897 - This pattern includes instructions for covering car seat, high chair and stroller cushions, a changing pad cover and organizers to install in baby strollers, cribs and the nursery wall.
KWIK SEW PATTERN NUMBER 2997 - This pattern includes sewing patterns for a baby car seat that uses zippers or velcro and elastic to hold it securely once installed and a pattern for a line shoulder strap diaper bag.
SIMPLICITY SEWING FOR DUMMIES PATTERN NUMBER 3561 - This does not include a baby seat cover pattern but it has patterns for a baby shopping cart cover, a baby diaper bag and a boppy pillow cover. I thought that you might want to give these easy baby patterns a try before you move on to the more advanced infant car seat cover pattern and instructions.
HOW TO CHOOSE THE BEST FABRICS FOR YOUR SLIP COVERS
Some mothers have told me that they got the best results using upholstery weight fabrics to make their infant car seat covers. Others said that they used cotton quilt fabric to cover their worn out covers to make the car seat more attractive. If you will be using your old seat cover underneath a heavy, quilted fabric is not necessary as any medium weight, baby print fabric will work. Another consideration is baby's comfort in warm or cold weather. Cotton that will breathe well and won't make baby so hot in summer and for winter, shearling, fleece or faux fur will keep baby warm.
You may choose to use flame resistant fabrics for your sewing project that may be helpful in the event of fire. Please choose fabrics accordingly. You might also consider using a commercial spray to make the fabric more flame resistant. Please do your research to find a product that is suitable for your needs.
Personalize Baby Car Seat Covers
The beauty of making your own baby accessories is that you can custom make them to your heart's desire. Once you master the process you can start your own cottage industry of custom baby car seats and strollers. When you know how to make a baby car seat cover yourself, you can match the child's car seat cover to the baby bedding set if you want. Monogram it or sew lace, or decorate it with any decorations or embroidery that you like so long as the embellishments do not remove easily and present a choking hazard for baby.
If you have some tips to share on how to make a baby car seat cover please email them to us. If you used one of the patterns that
Unique Baby Gear Ideas
mentioned in the list above, please send in a review and rating of the pattern to help other DIY moms. If you have a free sewing pattern for a baby car seat cover on hand, please scan the pictures of the pattern pieces and send it in as a free download to share it would be greatly appreciated.
Disclaimer:
Altering your car seat may void your car seat's warranty. Unique Baby Gear Ideas is held harmless and not responsible for any decisions made regarding your own car seat, any advice for how to make a baby car seat cover or the fabrics that are chosen to make the replacement cover. Be aware that in the event of an accident, your car seat may or may not be replaced with a brand new one. You should consider the risk of having to buy a new one if your seat was damaged in a way that your seat's company would have been willing to replace it for free. I have heard of car seat manufacturing companies replacing the seat even though they had new covers as well as other scenarios where they would not replace the seat.