Gothic Baby Bedding and Stuff for a Punk Goth Baby Nursery
Whether you call it goth, punk or just stuff with skulls on it, gothic baby bedding is a current favorite of edgy, urban parents who are in the process of decorating a nursery room for their soon-to-be born infant. Whether or not gothic crib bedding and decor is your taste, goths want cribs, baby bedding sets and accessories that reflect their lifestyle.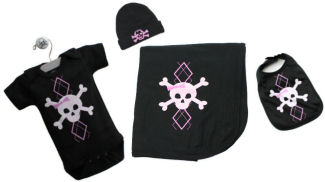 Go here to see more
items that can be used to decorate a gothic style nursery for a baby girl or boy including skull fabrics for baby bedding and curtains.


The preferred color scheme of choice for the Gothic nursery is monochromatic black and white which may or may not be accented with decorative items in lime green, orange or bright, blood red. The primary difference in goth baby stuff and punk baby products is that punk baby bedding and decor is often very colorful lacking the dark nature of a gothic theme.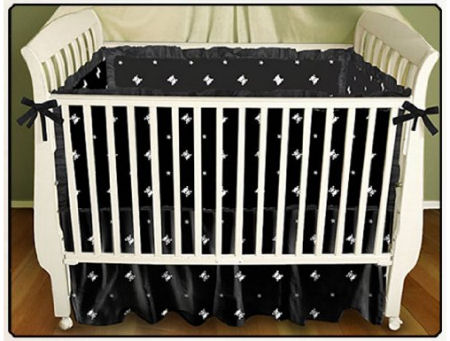 Gothic Skull Baby Bedding
The amount of color in a gothic nursery is kept to a bare minimum with decorations covered in skulls, cross bones or some other spooky looking stuff that, to the casual observer, may seem to be more appropriate at a Halloween party than in a baby's room.
There are cemetery themes covered in tombstones shadowed by flying bats and shocking sayings that one would never expect to find displayed on a baby's onesie. Many of the (some might consider) tastelesss Gothic designs are presented tongue in cheek even though the humor is difficult for many to appreciate. Lots of the Gothic baby stuff I've seen is marketed to "little monsters" (their term, not mine) in the UK and to the Urban punk baby crew in the USA.
European cities as well as those in the USA are the playgrounds of kids with gothic baby names like Noire, Midnight and Maleficent. Many of the more mythical gothic names are hauntingly beautiful bringing forth mental images of a misty primeval forest bathed in light from a full harvest moon. Maybe it's the urban punk way of escaping the noisy city streets where they actually dwell.
Little infant Goths to pre-teen Goths Gothic clothing warns that they bite, play in the graveyard, love gargoyles and are big fans of Vampires. You can bet that little gothic headbangers will recognize at least one number at a very early age: 6. the numbers 666 appear on quite a bit of gothic baby attire.
For those wanting to design a gothic nursery theme, get ready for black and white baby decor. That's right; a gothic crib set is probably going to be decked out in black and white skulls. You will be able to find all of the pieces of crib bedding that you could ever want to use in the decoration of your Gothic crib. Gothic baby bedding is available from the punk theme baby bedding and crib skirt to the skull print fitted crib sheets. An ironic twist in modern gothic decor has been to use a red rose theme tied into white skulls to jazz up the traditional monochromatic black and white scheme.
For the most part the Gothic baby bedding sets are gender neutral. If you want to give your Gothic nursery a feminine feel, display some of the popular collectible Gothic dolls on some shelves that are out of your little Vampirella's reach. Bleeding Goth dolls are surely to gain in value! Purchase rare and unusual punk themed items that will become the priceless punk baby collectibles of the future! Pink punk baby stuff looks great with black and white if you want to give that a try!
For a baby boy's Gothic nursery theme, gargoyle collectibles and statues will provide the creepy finishing touches. I would recommend some blood red accent pieces if you want to give the otherwise monochromatic room some zip.
If black and white, bloody red and Gothic stone statues are not doing it for you, go colorful with some stuffed, plush fire-breathing dragons and a set of medieval baby bedding. Your idea of Gothic baby stuff may not be evil looking at all! You can give your Gothic room a lighter touch with more of a medieval castle décor and still keep the flavor of a gothic novel. You will just focus less on the dungeon and the torture chamber of horrors and more on the history.
So don't dress your little devil in conventional bloomers and bibs, get some punk baby stuff and rock on!
Please make plans to visit Unique Baby Gear Ideas again soon to find recommendations for gothic baby nursery themes and cute clothes for the little goth in your life.