Dramatic Punk Goth Nursery Theme Design Ideas with Gothic Skull Baby Bedding

We have ideas for baby goth or punk nursery designs with skull baby bedding and décor.  When this style is mentioned perhaps images of a dark and gloomy space with a a grave atmosphere comes to mind with pictures of a nursery room likely to send shivers down your spine rather than one where parents would want to raise a child. 
But as you will see, a gothic baby nursery can be surprisingly elegant in its own way. With the right fabric choices the skulls practically disappear into the background.
New moms and dads whose taste in décor leans toward the macabre will appreciate custom crib bedding collections sewn from fabrics with prominent skull patterns as well as those made from fabrics with a print so small that the images are virtually unnoticeable without a very close inspection.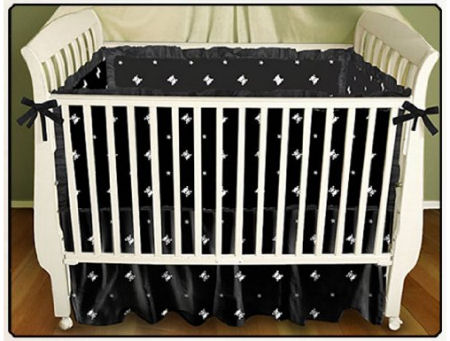 Go here to see more
baby punk wall décor and bedding for your nursery decorating project.
Music lovers will appreciate the chance to frame and hang their guitars and put their punk rock band posters on display.
Contrary to what you might believe, all parents shopping for skull nursery bedding collections are goths or "wanna be" vampires. Punk, classic rock and roll guitar lovers and rockabilly fans have been known to favor black and white crib bedding sets complete with crib skirts trimmed in metal studs along the hem as well as on the diaper stacker.
Metal studs and edgy, urban graphics are not just for baby boys. There are pretty, pink skull crib sets that are as girly as any mommy goth or punk daddy could ask for.
Whimsical polka dots and skulls may seem an unlikely pairing for a little girl's gothic baby nursery but don't knock it till you've seen it!
There is more to a punk nursery design than black and white.
Colorful Skull Crib Sets in Candy Colors
For every mom-to-be that wants to dance on the dark side and decorate her baby's nursery accordingly there is another that prefers less than gloomy color combinations.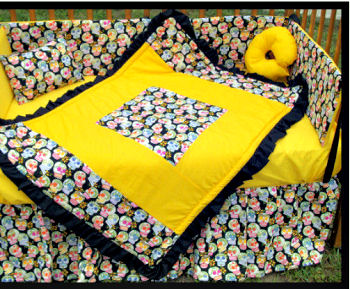 Go here to see
the many colors and fabrics available for use in a punk themed nursery.
Fabrics with delightful (?) skull patterns in bright colors will brighten even the darkest of nursery themes.
There is no reason to sacrifice color if this is your preferred decorating style!
Purple color combinations are a favorite in addition to the popular combination of black, white and red popular color for a baby girl's gothic baby nursery.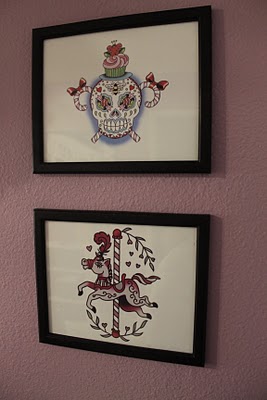 Baby Girl Skull Tattoo Nursery Wall Art
Skull crib sets are just one means of defining a baby nursery theme. Decorating the walls with skull themed artwork is an imaginative way to incorporate more goth inspired aspects to the decor!