French Country Baby Bedding and Nursery Decorating Ideas
You've got country French table lamps and accessories, now for the French country baby bedding! Blending lovely old world charm with modern choices in cribsets is not a task for amateurs. It takes some doing to achieve a successful eclectic mix and that's pretty much what this themed room is about. If you are a lover of all things French, then you know how they have a knack for taking everyday items that we would ordinarily overlook and transforming them into sophisticated decorating accessories.




CRIB BEDDING DESCRIPTION
The foundation for a stunning French Country nursery in a color scheme of black, yellow and white. The sophisticated black and cream paisley print fabrics provide the perfect anchor for polka dots and Parisian shabby chic roses and a gathered mosquito netting crib canopy.
The matching musical crib mobile will delight your infant with ruffled heart shapes in fabrics that match the nursery curtains and window valance floating overhead. Mom will love the diaper stacker and toy bag that helps her organize the room while the pretty ivory colored nursery lamp decorated with a polka dot ribbon tied in a bow and a black and white paisley lamp decorates the dresser and gives a soft light which is recommended for French Country Style decor.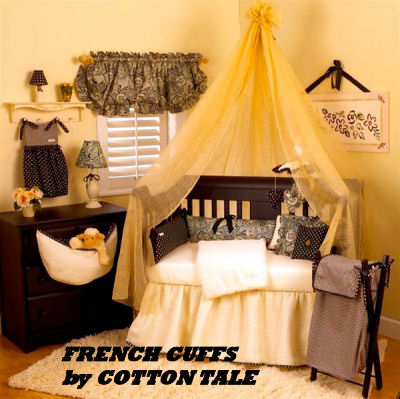 SEE MORE HERE


After spending hours combing through flea markets and antique stores to build your collection of French Country Antiques, of course, you will want to display them. To do so in the baby's room creates a need for the perfect set of French Country baby bedding to complement your treasures. Where can you find the perfect crib set? To be honest, you may have to make it yourself or have it custom made but wait; a country French nursery theme is one of the few where I DON'T recommend buying the crib set first.


SHARE IDEAS - PICTURES of FRENCH COUNTRY NURSERY DECOR
Do you have a great set of baby bedding or a picture of a nursery that you decorated? Share it!
NURSERY PICTURES, IDEAS and SUGGESTIONS from our FRIENDS
Click below to see contributions from other visitors to this page...


French Country Modern Nursery Design

I chose a French country modern nursery design that is functional rather than fancy. It is simple but exactly what I wanted for the room. I LOVE uncomplicated, …

French Country Nursery Decor with a Modern Twist

My favorite thing about our nursery decorated in French country nursery decor is the sunny summer colors. In fact, my love of bright green and yellow …

We will take our inspiration from your cherished possessions. We will bring in a baby bedding set to highlight your treasures rather than choosing accessories to compliment the print in your bedding sets. To get you started here are some French Country nursery decorating ideas.
PAINTING TECHNIQUES FOR A FRENCH COUNTRY THEMED ROOM
The best nursery painting techniques would be to use subtle finishes that look aged. I would hesitate to use any flat painted finish. Soft painted effects gained through the use of glazes that make the nursery walls look old and mellow would be best.
FABRIC PRINTS
When decorating with French country baby bedding in Toile fabrics you have several styles that are suitable for a baby's nursery. There are prints depicting farm scenes in muted shades will blend beautifully and will continue the European feel of the decor. If your color scheme allows, there are toile fabrics featuring roosters that you can coordinate with ticking stripes that make for a striking display in black,cream and red. Then there are the brown and pink prints and sweet bunny toiles.
COUNTRY FRENCH BABY FURNITURE
Country French furniture is so popular that there are entire collections of vintage look alikes that you may wish to consider. This will give you the advantage of the antique look to go with your baby bedding with none of the safety issues that go with an antique baby bed. Pull in some of your personal favorites such as an antique French Country rocker or dressing table that can pull duty in the baby's room for awhile.
French country decorating in any part of the home is relaxed and casual. No need to stress over the French Country baby bedding and accessories, take it easy and enjoy.
Return to find more French Country Baby Nursery Ideas for decorating your nursery that will inspire thoughts of Paris in springtime.