DIY Fairy Art Ideas - Decorating ideas for a Baby's Fairy Nursery Wall
We have ideas for using free and DIY fairy art in decorating your baby's nursery walls. There should be a craft project or picture to inspire you on this page whether you are searching for decor for a fairy princess or prince.


We have gathered a collection of exotic, mystical pictures of butterfly fairies as well as cartoon drawings of Disney characters like Tinkerbell. We add new pictures often so check back to see which whimsical, pastel fairies with fluttering gossamer wings have dropped in since your last visit to our list of enchanting possibilities.


For those of us with virtually no talent in the painting department there are free printable downloads with a vintage look such as this baby fairy silhouette. Draw them inside the castles having a tea party with the princes and princesses of the manor. Draw them pouring from a dainty teapot while seated on toadstools surrounded by the soft, moss green carpet of the forest floor.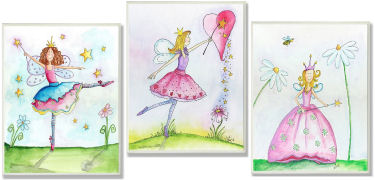 Go here to see more
Those of you with artistic skills can paint your own fairy pictures and paintings using supplies that you most likely already have on hand. Creating artwork featuring wood nymphs frolicking in the forest among the flowers may not be a particularly challenging project to some but to others the idea is completely out of the question.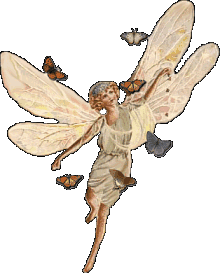 FAIRY WINGS and GOWNS
Capturing the light and myriad of colors in delicate fairy wings will be essential. The gossamer gowns and the wings of fairies are often drawn to resemble flowers' petals or the wings of butterflies in modern as well as vintage watercolor drawings and illustrations.
If you are not artistic, but draw the line at using stickers or decals there are paint by number mural kits, stenciling kits that will allow you to paint pictures of fairies in any color that you choose with very little artistic ability required.
FAMOUS FAIRY PAINTERS
While fairies, pixies, elves and other whimsical creatures of the forest are the subject of many children's beautiful fairy tales and bedtime stories, the famous Flower Fairy series by painter and illustrator, Mary Cicely Barker, can be a source of real botanical information. She has created such wonderful pieces with realistic coloring that you can share with your children. Many popular fairy illustrations have an antique quality as illustrated in the Flower Fairy series. Some examples of these are The Golden Butterfly by Mary St. Clair and the pictures by Lisa Jane.


After completing your DIY craft projects you will want to display your fairy drawings and watercolors to their best advantage. There are many ways to design unique arrangements from hanging one, single piece to creating a large, gallery wall. Here are some ideas that will truly make your fairy nursery art magical:
Start decorating gift bags, gift wrap and otherwise nondescript items with fairy art decals and stickers. It's an incredibly cheap way to sprinkle fairy dust to share with your friends. Fairy stickers, wallpaper cut outs, and decals are also helpful items to use when painting a woodland scene on the nursery wall.

Make a group of fairy princess pictures for your baby girls room or an arrangement of fairy prince pictures for a baby boys room. Hang them on the nursery walls to create a magical gallery of fairy pictures or use them in standing picture frames to decorate tables and wall shelves.
Fairy art has become increasingly popular with digital fairy clip art, posters and prints. Previously found only on the pages of books, it's now marketed as enchanted art for children's bedrooms and baby's nursery wall decor.
PICTURES OF GOTHIC or DARK FAIRIES
There is a genre' of darkly beautiful fairy art prints in a gothic style. Dark fairies are the more mischievous ne'er do well type of fairy often referred to in the fairy tales by the Brothers Grimm. These tales are classics and thought of as juvenile literature. However, they may unsuitable for children's bedtime stories as they are fairies of the wicked (or evil) variety.
RECOMMENDED FAIRY PICTURES AND PAINTINGS for a CHILD'S BEDROOM
A dreamy painting that would blend beautifully with nursery rhyme prints would be Moon Boat to Dreamland. While this is not your classic piece of fairy art, I feel it's worthy of inclusion in a fairy themed nursery wall grouping as the print features a fairy manning the oars in the rowboat. This painting would work with a nursery rhyme nursery theme just as well as a Fairy Nursery Theme. It's one of my favorites, I have it in my own bedroom and I'm a big girl! A lighter and more modern style of fairy art would be the whimsical Felicity Fairy Art Prints that would be really cute.
BEYOND FAIRY ART PRINTS
Look beyond framed fairy pictures for your fairy wall decorations. With some imagination and some framing hardware and hangers there are many fairy themed items that will add to your fairy picture gallery. There are flower fairy print fabrics available that can be used to make baby quilts that can in turn be used as wallhangings to match baby's fairy theme baby bedding. Use these beautiful fabrics to sew personalized baby pillows, lampshades and other decorative items that display your favorite fairy pictures.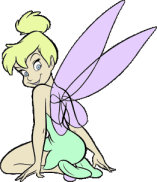 FAMOUS DISNEY FAIRIES
Perhaps the most popular fairies with children in modern times are Disney fairies. Tinkerbell and others have been made famous and given celebrity status through the animated movies that showcase these them larger than we could ever imagine their being in life.
Return to Unique Baby Gear Ideas find the latest in fairy art and DIY craft ideas that will bring magic into your home through the use of framed fairy pictures and prints.