Cute Kids Duck Decals and Wall Stickers for a Baby's Nursery Room or Bath
On this page you will see ideas for how to use duck decals and wall stickers to decorate a rubber ducky nursery for a baby boy or girl. Cheerful baby duck wall stickers will brighten the walls in many themes as well as the adjoining bathroom. An added bonus is that they are so cheap and are removable when your kids reach the stage where they do not appreciate a bedroom decorated in wall stickers and bright yellow duckies.



THEMES AND DESIGNS
If you were of the mind that all duck wall stickers are similar; you were wrong. There are ducks that are specifically designed to decorate the walls of a bathroom as well as stickers that are are for decorating a nursery that has baby crib bedding with yellow ducks.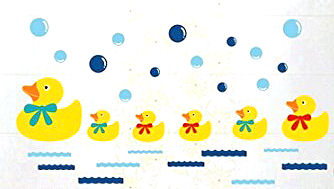 Go here to see all of the
many collections of ducky wall decals that can be used to decorate the walls of the baby's room or adjoining bathroom.




There are designs that are completely unisex plus those that will set the tone for a baby girl or baby boy nursery room.
If the DIY decorator prefers a gender specific color, there is no need to settle for the classic rubber ducky designs that have been so popular for decades. Yellow is perfect for a gender neutral nursery but pink and blue options are available as well as ones that reflect the latest themes.
For a
baby boy nursery
, there are surfer ducks riding the waves wearing sunglasses. For a
baby girl nursery
, there are duck decals where the ducky ballerinas are wearing ballet costumes and are pretty as punch in their pink tutus and tiaras.
Duck decals and stickers for the nursery walls are lots of fun and are inexpensive. So, have a great time and get the kids in on the act. Peel and stick your way to a nursery that is decorated from floor to ceiling in cute yellow ducks that will without a doubt provide you and the children with the duckiest time of your life.
Return to Unique Baby Gear Ideas to see more interesting tips on how to decorate with rubber ducky stickers.