Woodland Animals Theme Nursery for a Baby Boy
by JB
Today we are sharing pictures of a delightful woodland animals theme nursery for a baby boy that expectant parents will enjoy. The photos were shared with us by one of our favorite newborn photographers, Twinty Photography. These images reveal many tips and techniques for including gentle forest creatures in your own decorating project.


I believe that you will all agree that it's only fitting that this handsome little boy's room is decorated with forest creatures and birds given that his very unique name happens to be "Bear".



See more rustic baby nursery pictures featuring forest creatures in our photo gallery.
Many nature lovers object to hunting but parents that are hunters appreciate the opportunity to put their trophies on display.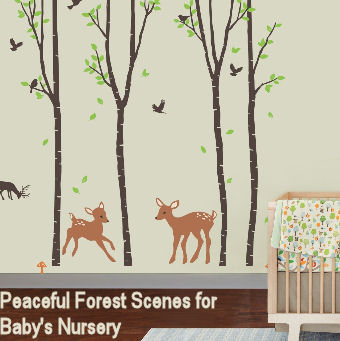 Go Here to See More
The deer hunting trophy over the chest of drawers and the masculine style of the nursery furniture collection give the room an earthy atmosphere tempered with shades of teal and gold reflected in the baby bedding set.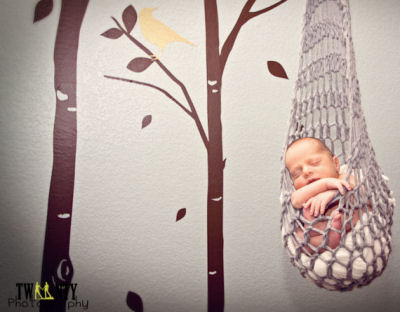 The nursery's
tree wall mural
features a forest scene with falling leaves and a collection of birds that provide a nice background for the shots of Bear snuggled in his stork sack. The forest theme nursery is so peaceful; the perfect room for a little one's first years.
Bear, safe and sound cradled in Daddy's strong, loving hands.
Bear seems to not mind sharing Twinty Photography's lens with his furr-ever friends, a pair of puppy dogs with incredibly beautiful blue eyes.
I saved my favorite photo for last. The adorable hat plus his precious face equals total perfection in my book.
April and Amy of

Twinty Photography
did an amazing job of capturing the style of this baby boy nursery as well as the love that fills it and we here at
Unique Baby Gear Ideas
appreciate their talent and their willingness to share it with our visitors.
Please visit their blog to see more photos taken by these gifted Texan twins and to make an appointment for your own photo shoot.