Dachshund Baby Nursery Theme Ideas
by JB
Our dachshund baby nursery theme ideas will make "wiener dog" lovers jump for pure puppy dog joy. In fact, our decorating ideas will appeal to fans of all breeds of puppies! The color combinations for doggy decor are primarily neutral making it suitable for a baby boy, a baby girl or, if you happen to be expecting twins, both!


If you are into crafts as well as DIY decorating, you might consider making your own dachshund baby mobile.
You can make stuffed dog toys to decorate the mobile frame using
this free pattern
.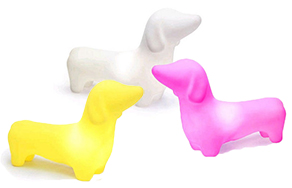 Go here
to see lots of dachshund lamps and lighting options for your kids' room.
This lamp shade features not only dachshunds but silhouettes of other popular breeds as well.
If you are particular about the breed of dog that is represented in your baby's room you can buy a lamp and shade that fits your lighting needs and then decorate the shade yourself.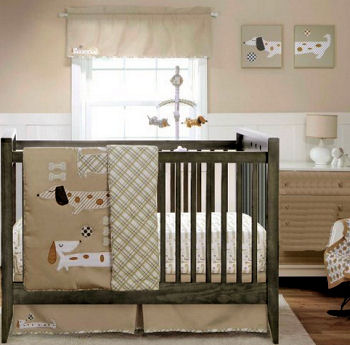 Go Here to See More
Note that the colors used to decorate the room are as neutral as the baby nursery theme and can be used for either a girl or a boy.
I found a nice assortment of dachshund silhouettes that can be sized to fit your shade on Chica and Jo.com including a tutorial on how to use dog shaped cut-outs to decorate a lampshade.
Wall Decorations
If you make your own crib set; hang onto those scraps! You can make your own totally adorable dachshund themed nursery wall art using
this
easy tutorial.
Go for it even if you've never done anything like it before in your life! It will make your heart swell with pride to know that you made something by hand for the room that your little one can look at while laying in the crib.
Dual Nursery Themes
There is the slightest hint of a sports theme introduced via the soccer balls on the crib quilt and the wall decorations are unisex.
Nursery Color Combinations
Often colors of accent fabrics are used throughout the room as a border and as part of the appliqued design on the window valance, the crib skirt or as backing on the baby's quilt.
Best Nursery Wall Paint Colors
Neutral colors such as beige and antique white can be the trickiest to match. It's always a good idea to take a piece of your baby bedding to your home decorating store to have the colors matched right in their paint department.
Unique Baby Gear Ideas
would appreciate it if you would stop by to share your dachshund baby nursery ideas with our visitors once your project is completed.