Best Cruella DeVille Costume Ideas
After watching 1001 Dalmatians, who on earth would want to memorialize the villain with a Cruella DeVille costume? US!! Every now and then we get tired of being princesses, heroines and cheerleaders and want to jazz it up a bit. How better to do that than to dress up like a villainous Dalmation puppy dog napping diva?

Tell me honestly. Can you remember the names of any of the family members that owned the precious little Dalmatian puppies? Well okay, if you are a real Disney scientist, you might. I would be willing to lay odds that there are more people who remember Cruella DeVille the spiteful, wretched meanie that would sacrifice cute puppies for a new for credit than there are who remember the good guys! If you want to be the good cowboy and where the white hat, fine. But for the party girl who wants to be remembered here some ideas on putting together a really cool Cruella DeVille costume.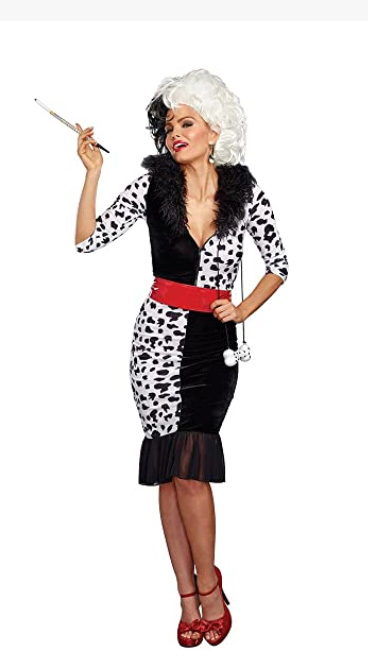 Go here.
to see what an excellent maternity Halloween costume this can be.

For those of you who remember every detail of Cruella's ensemble from the picture, you've got to admit the queen of femdom had high style, didn't she? If you need advice on putting together an authentic looking Cruella DeVille costume, stay tuned. The Cruella DeVille picture that sticks in my mind is one of a not so attractive woman in a monochromatic black-and-white ensemble with a foot-long cigarette holder trailing smoke. Her hair was even half coal black and half snow white. No wonder that she thought a black and white Dalmatian fur coat was the height of couture and a much needed fashion accessory for Queen Disney Cruela! After all what is Cruella De vil's only true love? Why Cruella DeVil, of course!
Cruela loved what she saw in the mirror, what we consider a costume was her LOOK of choice! I'm not sure what SHE saw there that was so loveable, but it certainly wasn't the mean devil bitch in drag that the rest of us see! She was not what you would call drop dead gorgeous by anybody's measuring stick and the costume that she wore was a bit over the top! But that's what made Cruella DeVille the famous villain that she is!
Can't Disney make you despise a villain when they want? 101 Dalmations is wildly popular and a Disney marketing empire has sprung from the movie with all the bedding, accessories and other merchandise that you could ever want! It seems that the films with bold contrasts between good and evil really do well!
Cruella DeVille's favorite femdom costume attire was a formfitting, hot little black dress. You probably already own a sexy little number that will do in a pinch. Of course, you may want this dress to fit a little tighter and for the hem to fall slightly higher on your thigh than you would normally wear to most cocktail parties or to the office Christmas party. This Cruella DeVille costume isn't for a sweet little baby, but for a red hot mama who wants to be a dog loving diva for a night! A collarbone length choker of imitation pearls and pearl stud earrings are required. If you happen to have a matching multi-strand pearl bracelet that would go nicely with your Cruella DeVille costume as well.
These are some items that you can probably find in your own jewelry box or borrow from a friend. Throw in a pair of ruby red spiked heels, elbow length red opera gloves, a long faux fur coat and a wild black-and-white Cruella DeVille wig to top off your costume, and you will be in business. Oh and no Cruella DeVille costume would be complete without the trademark extra long cigarette holder.
Your Cruella Deville costume will be great for a costume party or ball at Halloween, Valentine's Day or any other special occasion! If you want to dress up like Cruella DeVille and admire yourself in the full length mirror in your own bedroom well, that's kinky, but certainly ok! BEHOLD, the evil mistress Cruella evil wench of femdom!
Are you having trouble getting a baby sitter for the event? Dress baby up in a cute dalmation costume and rock right on to the party with puppy or baby in tow!
Disclaimer: The contents of this article and website are for informational purposes only and should not replace medical advice from a doctor or professional. You should always make your own choices on the advice of your chosen professional in matters concerning your baby's safety.