Best Camo Baby Clothes in Many Camouflage Patterns and Colors
Camo baby clothes have been on the scene long enough so that we can assume that camo baby hats and other articles of baby clothing in camouflage print are more than a passing fashion trend. After all, camouflage hats and clothing had a long history of association with hunters or military personnel. They were usually not worn by civilian adults unless they were out hunting much less newborns lounging peacefully in their cribs or out strolling in the park.



Visitors Shopping for Camouflage Baby Clothes Also Enjoyed:

Camouflage Baby Nursery Ideas

Camo Baby Shower

Camo Baby Shower Invitations



CAMO BABY CLOTHES
When I first spotted some of the first camo baby clothes a few years back I thought how cute that babies with a mom or a dad in the armed forces could find cute pants and shirts that resembled their parents' work clothes. Then we began to see infants dressed in personalized camo onesies with cute sayings on them, pink camouflage clothes for baby girls and camouflage baby bedding sets in blue, green, purple and other colors that we had never seen before.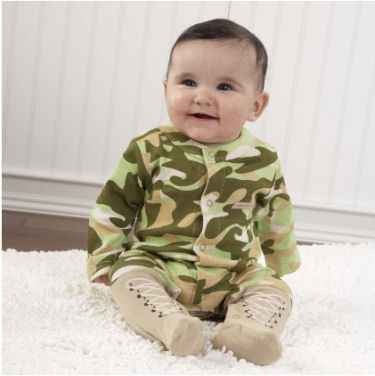 See More Here
It was around this time that it hit me that all these little ones most likely didn't have parents serving in the military or that were into hunting. Basically, moms and dads were dressing their babies in camo baby outfits just because they like the way that it looks.


Sets of pink camo baby clothes for girls are cute as can be with matching bibs, onesies and booties.
These outfits are so pretty that they are often chosen to be worn for baby's first portrait.
For dressy occasions a pink camo baby dress with a matching, ruffled diaper cover might be a better fit.
CAMOUFLAGE BABY HATS
In addition to your little one's wardrobe of pink camouflage pants, t-shirts and jackets you may want to add a few caps and hats.
There are fitted, knit camouflage baby hats for winter that are knitted with variegated yarn in patterns that look just like military issue in small sizes for kids. Some camo hats and visors come as part of a camouflage baby clothes gift set. There are also big, floppy sun hats are helpful in protecting the sensitive skin on kids' faces while playing outside or at the beach.
Other camo baby items that you may want to match to your collection of camo baby clothes are socks, crib shoes, pacifiers and bottles. You might want to keep these gifts in mind for when you receive a camouflage baby shower invitation in the mail as any of these items would be nice gifts to present at a friend's camo baby shower.
Return to find more camo baby nursery ideas and tips on where to find cheap camouflage baby clothing for baby boys and girls.