Butterfly Princess Baby Dream Nursery
by Candice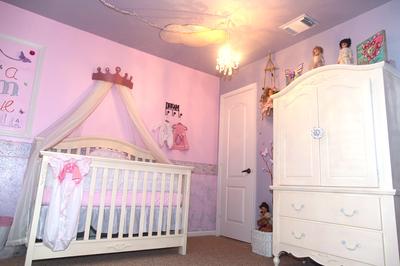 Princess Crib in our Baby Girls' Butterfly Princess Baby Dream Nursery Room
All of the crafts ideas and butterfly princess baby dream nursery ideas are my own. The design was not copied from a decorating book or taken from a picture that was taken of another baby's room that I saw in a magazine. Even the crib set is my own original design.




I did receive inspiration from various examples that I picked up online including the crib crown and drapes.






To pass it forward, I am going to share my shopping resources as well as paint colors in hopes that this information will help another mom-to-be.
Go Here to See More
What brand and paint paint color did you use?
We chose to paint the walls using the Glidden brand in colors called: Sweet Baby Girl, Moonlight Gray and Water Chestnut.
Could you please describe the special painting techniques that we see in your baby girl nursery pictures.
The hand-painted border with the green leaves was done using Glidden's Water Chestnut paint. I added iridescent beads on one end and pink ribbon trim on the other and some lovely "pop-out" butterflies in beautiful colors that I bought from Michaels Craft Store.
Where did you find your baby's princess crib and what brand is it?
The Issi crib was purchased from Babies R Us. It is included in the Classic White Mon Cheri Nursery Furniture Collection that we chose to use for the room.
Could you please describe the custom, princess baby bedding set and tell our visitors where you found it?
The crib set that we bought from an Ebay vendor is white with girly, pink ribbon trim.
We would also like more details regarding where you found your nursery curtains, nursery lighting, area rugs, wall decorations and accessories. Did you buy everything or make them yourself?
The decorations truly set the tone of the butterfly
princess baby dream nursery
. In keeping with the theme, most of the accessories have
butterfly theme
details.
All of the window treatments, the drapes and the valance as well as all of the nursery wall decor are my work; they are all handmade by me. I also did the shelves for the porcelain doll display bought on Ebay
How do you store and organize all of your baby girl's clothes, toys and necessities?
I chose decorative baskets and bins that complement our princess nursery's style and color scheme for storage.
How long did it take you to design and decorate the room? Would you say that the project was easy, fun or a bit of a challenge? What was your favorite part of the decorative process?
The entire project took me roughly 4 days to complete. It was all fun and easy enough for me to manage. My favorite part was painting the details on the walls of the room.
Did you paint and decorate the entire nursery yourself or did you have help? If you had help, who was your helper and what was their contribution?
I did everything by myself other than applying the base coat of paint on the walls and ceiling. My husband, Carl, helped with that.
What is your favorite part of your baby girl's nursery now that it's decorated?
I love everything but after everything is done, seeing her name on the wall makes me love it even more.
I hope that everyone that visits
Unique Baby Gear Ideas
likes my little princess' dream room.