Butterfly Nursery Ideas
by jackie
(arizona)
I have some pink and brown butterfly nursery ideas that will be of interest to you if your baby's room is too bright and has too much natural light. My baby girl's nursery has three small windows plus a large window that allowed a lot of natural light into the room making it a less than perfect naptime environment.




I had purchased a drapery set and installed vertical blinds to cover the large window and they do a good job of blocking out the light.



We have some very cute baby butterfly nursery theme decorating ideas for you here on Unique Baby Gear Ideas!
They were easy to install but covering the 3 mini windows was not so easy and I had to get creative.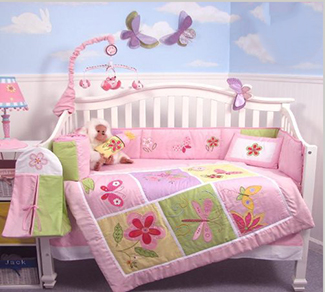 Go here to see more
butterfly crib sets that can be paired with your DIY window treatments.
Finding blinds to fit was out of the question, so I decided to make my own little window panels to cover them and block the sunlight.
To make the panels, I dressed wooden planks in fabric and then decorated them with pretty butterflies. After they were completed, I placed each panel in the window. They were a quick DIY project that successfully darkened the room so my baby can sleep during the day!
Butterfly Nursery Decorating Ideas
The key to success in this no-sew "quick fix" was to choose decorations and fabrics in colors that complemented DeAndra's baby bedding and wall decor.
From the webmaster:
Thanks for sharing your creative butterfly nursery ideas with us, Jackie! Your homemade window treatments are a great way to get a custom look for the baby's room and solve a problem with one crafty idea!
I love your pink and brown color scheme and the custom butterfly window panels are amazing!
Thanks for visiting
Unique Baby Gear Ideas
and please tell your friends and family about our website!