Victoria Beckham's Celebrity Baby Nursery Ideas
by Jan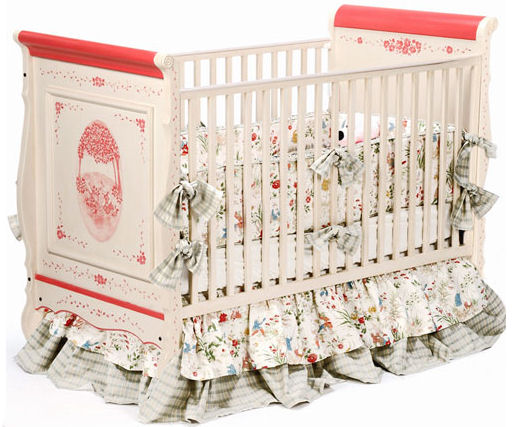 Save $100 at PoshTots! Use code Posh100 on orders $750+
After reading one news flash after another I decided to research Victoria Beckham's celebrity
baby nursery ideas
to see what all the excitement is about. The celebrity gossip websites have been all a-flutter over how much money this mom is spending on decorating her baby's room.
The talk is that she is spending over
$200,000 on decorating the nursery in a
bunny nursery theme
and that she is planning to purchase a handcarved French Bunnies style round baby crib with a price tag of $1.3k.
One source has been quoted as saying that the celebrity mommy-to-be is not very concerned with the prices for a single thing that she's purchased. If it's an item that she wants she gets it, no questions asked!
I don't know of anyone who thinks that $200,000 is an amount to be sneezed at but I WILL say that 1.3k for a carved, round crib is not overpriced. Mind you, I didn't say that it wasn't expensive. I'm just saying that the example that I've included on this page is more expensive than Victoria Beckham's (if rumors are to be believed). To prove my point, the custom painted bunny crib in the picture above costs $3,625.00.
This designer crib is lovely and worth every penny if you can afford it..and obviously Victoria can. My observation is that if she's is pulling out all the stops and being so extravagant, she actually bought an inexpensive baby bed relatively speaking.
I have to wonder where the rest of that $200k budget is being spent; on custom bunny baby bedding, curtains or where AND when we will actually see pictures of Victoria Beckham's Celebrity Baby Nursery Ideas.
We can only hope that more details on this upscale bunny nursery (or is it a bunny nursery theme at all?) will be coming soon and that nursery pictures will follow.