GUESS HOW MUCH I LOVE YOU NURSERY
by Tara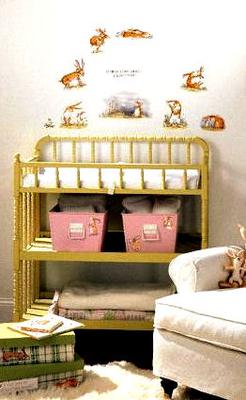 Vinyl wall decals for a "Guess How Much I Love You" or "Nutbrown Hare" theme nursery wall for a baby boy or girl.
My baby boy's Guess How Much I Love You Nursery Theme is based on the book by Sam McBratney and the beautiful illustrations by Anita Jeram. Before I knew that I was pregnant I knew that I wanted a unique nursery theme. We were not in our own home when we had our first son so we didn't go all out in decorating his nursery.

Go Here to See More
With our second baby, I wanted to decorate using a Guess How Much I Love You baby bedding set that I had seen online, but when I actually needed the crib set I searched and searched but couldn't find it again. I wished that I had bought the used one for $150 when I initially found it even for $150 even though that wasn't cheap!
However, I was able to locate decorations like drawer pulls and a light switch plate that were exactly what I wanted for my
Guess How Much I Love You Nursery Theme
. There were wallpapers, murals and decals available but they were expensive so I decided to paint my own wall decorations.
Just when I was about to give up on finding a Nut Brown Hare baby bedding set, I got an email from someone saying that they had not only a crib set but a blanket, wall stickers, a lamp shade, a diaper holder, two plush Nut Brown Hares and I could even choose a colour! I decided on a predominantly green gender neutral set and proceeded to set about building my cache of decorating ideas for my baby's Guess How Much I Love You Nursery Theme with my surprise set of baby bedding.
But that is not the end of the story of the crib set or how I decorated my
baby boy's nursery
.
To get the rest of the details, please visit my blog "
SEW TARA
" to see more of the
Unique Baby Gear and Nursery Ideas
that I used in decorating my baby boy's room.