Pink, White and Black Toile Baby Bedding and Nursery Decorating Ideas
There are many reasons that black toile baby bedding maintains its popularity year after year and season after season. Black French toile baby bedding is the crib bedding of choice for decorating nurseries for baby boys, girls nurseries as well as rooms decorated by moms and dads who don't have a clue as to the gender of their baby.



The reason for this long-lasting trend is due to the many cool (as well as hot) colors that you can bring in to accent the black and white fabric patterns. PLUS, its versatility is legend in that you can easily use it as part of the design in any number of stylish modern or vintage themes.
While black toile baby bedding is lovely in vintage style nurseries, it's fun to experiment with decorating a circus nursery theme using toile fabrics with pictures of animals and there are many, many more applications for the same fabric.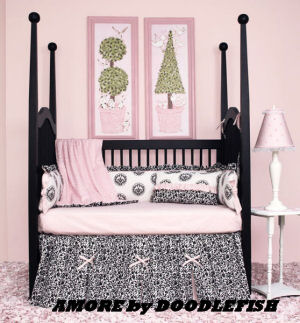 SEE MORE HERE
ACCENT COLORS
In spring I see black French toile crib bedding paired with sunflower yellow, lime greens and hot pinks. Here are more ideas and color combinations to consider:


Black and White Toile Baby Bedding

Cheap Toile Baby Bedding

Toile Baby Nursery Ideas

Kids Toile Fabric


In fall you may see the very same sets making the scene paired with earth tones including shades of rust, orange and chocolate brown.
When the cool breezes blow and ice forms lacy patterns on the nursery windowpanes, bold Chinese reds as well as bright holly berry red is used to bring a feeling of warmth and coziness to the bedroom.
Some decorators prefer to design the room around the black and white crib bedding with a gradual lightening of complimentary colors using beige and tan to make the ultimate transition to the accent colors of dark chocolate brown.
It's my opinion that this nursery color scheme looks much better with crib sets made from black toile fabric with white accents rather than more colorful toile baby fabric like the Over the Moon, Central Park Toile or Nursery Rhyme Toile patterns.
BLACK TOILE BABY BEDDING & NURSERY DECORATING IDEAS
If you like the idea of a themed room here are some themes that would work nicely with black French toile baby bedding.
Panda bears
Polar bears
Penguins in their elegant tuxedos
Soft fluffy sheep or baby lambs
Other possibilities are black toile baby bedding sets:
A French Country theme using rooster print toile fabric
A Parisian theme with pink and black toile baby bedding
Then again, no theme at all is necessary if your black toile fabric is of the variety that has pictures of children playing and going about their everyday activities printed on a solid color background. Bold nursery wall paint and accent colors alone can often take the place of a need for any particular theme. When decorating with toile fabrics, take care not to introduce lots of other busy prints and pictures that might conflict with the black toile pattern of your baby bedding.
If you have a nursery that you decorated with black French toile fabrics, please consider sharing your pictures.