Beatrix Potter Baby Bedding for a Vintage Bunny Nursery Design
On this page you can access pictures of nurseries with Beatrix Potter baby bedding and accessories to inspire your own unique storybook nursery decorating ideas. The Beatrix Potter nursery theme is a classic and timeless favorite with new parents and children alike. The woodland creatures featured in the storybooks are a perfect fit for a baby's first room that will be appreciated for many years.



Visitors Shopping for Beatrix Potter Nursery Bedding Also Enjoyed these Pages:

Beatrix Potter Baby Gifts

Beatrix Potter Nursery

Beatrix Potter Nursery Art



Many of the nurseries that follow feature Beatrix Potter baby bedding sets that were bought in a local discount store or online while others feature custom-made Beatrix Potter nursery bedding made from fabrics that feature the standard bunny print or perhaps an understated toile print.

Whether you dream of a nursery theme decorated with little brown bunnies, Jemima Puddleduck or Jeremy Fisher; you are surely to leave this page with lots of creative ideas for murals, curtains and more to complement any crib set that you choose.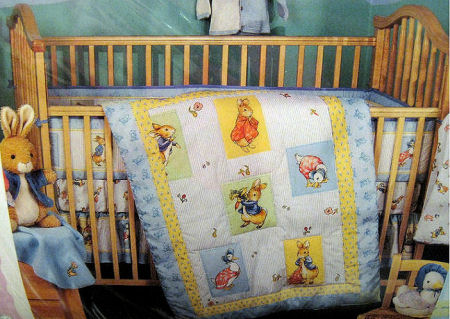 Go here to see
Beatrix Potter crib sets for girls and Peter Rabbit inspired baby bedding for boys.



You might consider buying matching accessories that come with your Beatrix Potter crib bedding set. Making a checklist of the decorations that you will need to decorate the baby's nursery would be very helpful. Color matching due to the differences in dye lots and product availability make the decision to buy everything that you need at the same time a very wise choice.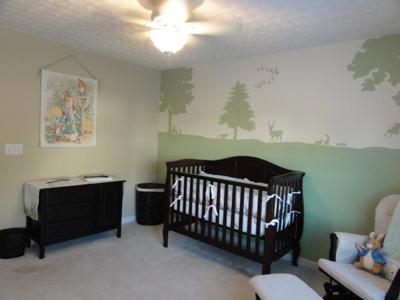 See More Beatrix Potter Peter Rabbit Baby Nursery Ideas Here
Pictures of Beatrix Potter Nursery Bedding and Decor
Waiting for the Beatrix Potter baby bedding collection to be discontinued in hopes of buying items for a discount price or shopping online auctions can be a risky business that often results in money wasted on fabrics that don't match or not finding the items you need to finish decorating your baby's Beatrix Potter nursery theme.
And when your friends and family members learn that you have a Beatrix Potter baby bedding set, you might be lucky enough to receive a patchwork crib quilt made from a variety of adorable quilt fabrics to add to your Beatrix Potter baby bedding set.
There are so many beautiful patterns available in so many colors that, who knows; you might decide to take up the hobby of quilting and sew your own baby quilt!
The beauty of these vintage fabrics are that they give the room a cozy atmosphere and a warm spot for your and your baby to snuggle while reading the classic storybooks that were the inspiration for your room design. Please consider uploading pictures of your own Beatrix Potter inspired crafts and artwork for others to enjoy when they visit Unique Baby Gear Ideas.