Beatrix Potter Art, Decals, Posters, Prints and Pictures for the Baby's Nursery Wall
We would like to suggest some Beatrix Potter art prints to decorate the walls in your home. An artfully arranged wall display that compliments your other decorations and accessories in the bedroom will give Benjamin Bunny, Jemima Puddleduck and Squirrel Nutkin a once in a lifetime opportunity to share the spotlight with the more famous of the Beatrix Potter characters.



Visitors Shopping for Beatrix Potter Wall Art Also Enjoyed these Pages:

Beatrix Potter Baby Bedding sets

Beatrix Potter Baby Nursery Theme Ideas



The beautifully tinted illustrations are beautiful images and examples of juvenile art that have been enjoyed by generations of children in the nursery. With the recent release of the Beatrix Potter movie their popularity has reached new heights.


Urban children who have never seen a classic, English garden were thrilled and touched by the animated woodland creatures that came to life in the imagination of the artistically gifted Miss Potter.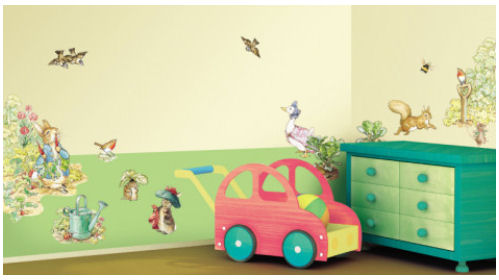 Go Here to See More
As much as we enjoy viewing Beatrix Potter art featured in the pages of our children's storybooks, you might wonder when would it be appropriate to frame these watercolor drawings and display them?
SEE MORE HERE
Here are some ideas for styles of decor where your
Beatrix Potter art prints and pictures
will be right at home.
See More Examples of Original Peter Rabbit Nursery Wall Art Here
THE NURSERY
I can't think of a better place to display a Beatrix Potter photo than in a baby's Beatrix Potter nursery theme where the crib is decorated with a Beatrix Pottery baby bedding set. Pick your favorite character and design your child's bedroom around your choice. Here are some ideas for the best themes for many of the characters and art prints or posters on the market today:
Jemima Puddleduck pictures might lay the groundwork for a feminine room decorated with elegant, white ducks.
Mrs. Rabbit and Family would be an excellent choice for a room that belonged to both a girl and a boy as there are both male and female baby bunnies in this particular group of Beatrix Potter art prints
Display your Peter Rabbit Alphabet posters in rooms where children are just learning their ABCs
Beatrix Potter's Squirrel Nutkin would be cute as can be in a masculine room decorated in a rustic theme
Beatrix Potter art prints featuring Peter Rabbit would be the perfect decorative touch to coordinate with a baby boy's Peter Rabbit nursery bedding set in the crib or perhaps a Peter Rabbit nursery mural.
BEATRIX POTTER ART FOR ADULTS
I can't imagine a home without Beatrix Potter prints even when my children are grown. However, I believe that I can arrange a photo gallery in a cottage style bedroom or a sunroom where adults can enjoy a tasteful display of my vintage Beatrix Potter art pictures and prints.
I will take the pictures of Mrs. Tiggywinkle and Jemima Puddleduck from their white, wicker picture frames and have them professionally mounted in some antique sterling silver frames that I have been saving especially for that purpose. I have to have something to look forward to that will take some of the sting out of the thought that my babies will grow up before I'm ready. It's hard to imagine that I won't always have a child waiting for me to read the Tales of Peter Rabbit to them before bedtime every night.
RESOURCES BEATRIX POTTER ART PICTURES and PRINTS
Our photo gallery should cover most of your needs in the way of drawings and watercolor paintings by Miss Potter, but if you have a favorite plate that isn't offered in our display, consider shopping flea markets or garage sales for a storybook that might contain the picture that you want.
If the book is damaged; what better opportunity for a cheap price would you ever find? You could probably buy the entire book for less than the price of one fine art print and if you point out that the book is damaged the owner might let you take it for free to save them the trouble of hauling it off.
Once you have made your bargain, remove the page with the picture that you want and take it to your favorite framing shop. If the picture on the page is too small, you could use it as a background for a shadowbox made to display your collectible figurines or you could use a wide mat to make it seem bigger than it is.
Return to Unique Baby Gear and Nursery Ideas to see more tips on how to use Beatrix Potter pictures and prints to decorate your home.