Beatrix Potter Baby Gifts Ideas Featuring Your Favorite Characters
We have some suggestions for Beatrix Potter baby gifts that with proper care will continue to give pleasure far beyond the shower. Our recommendations include collectibles and keepsakes that are lovely decorations that will prove helpful in decorating a child's bedroom as well as practical baby items in addition to the classic gifts of toys and books.




Collectible figurines and other items are just as popular in rooms primarily used by adults as they are to put the finishing touches on a
Beatrix Potter nursery theme
for a newborn baby. Many of our suggestions will enhance any space from a breakfast room to a sunroom as well as make your baby gift basket the envy of all the moms attending the shower.
BEATRIX POTTER GIFT SET
It would be a shame not to list a complete set of books at the top of my list of
Beatrix Potter baby gifts ideas
. Certainly, a box set of the storybooks is not the most unique or imaginative choice. But if there is a better way to introduce a child to the beloved characters, Jemima Puddleduck, Jeremy Fisher and Peter Rabbit, than to sit in the nursery rocker and point them out in the storybooks I am not aware of it.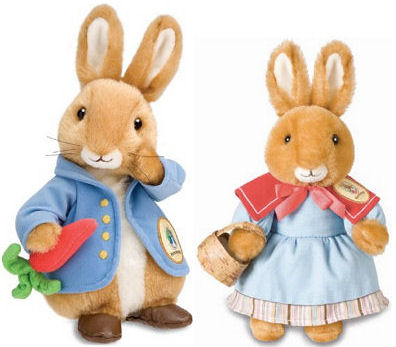 SEE MORE HERE
A set of Peter Rabbit and Beatrix Potter stuffed toys are a beautiful gift idea for fraternal twins.


BEATRIX POTTER FIGURINES
At the top of the list of collectible items in this genre would be porcelain figurines. They are relatively inexpensive and may even gain in value as time goes by. True enough, baby won't appreciate being told not to touch them for many years. But the figures make an excellent visual example resting in their place high on a wall shelf while reading the storybooks.

CHINA DISHES and TEA SETS
A Beatrix Potter baby china set for a girl or Peter Rabbit china for a baby boy manufactured by either the Wedgwood or Royal Doulton company are classic gifts that are often passed down from generation to generation. A set of china dinnerware is one of my top picks because it is a practical as well as useful Beatrix Potter baby gift idea. If the mother to be already has a set of Beatrix Potter dishes ready and waiting for her daughter, consider a teapot or a miniature tea set that can be played with or displayed inside a dollhouse.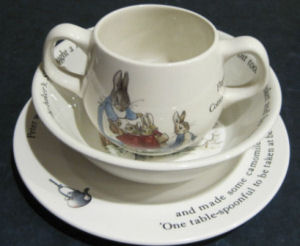 Baby Shower Gifts
BEATRIX POTTER PRINTS, POSTERS and PICTURES
If the new mom has already chosen a set of Beatrix Potter baby bedding, it is an excellent bet that some framed art for the walls added to our other Beatrix Potter baby gifts will be greatly appreciated. Pictures of Jeremy Fisher and Peter Rabbit would be appropriate gifts for a baby boy and pictures of Jemima Puddleduck, Beatrix and baby bunnies are perfect for a baby girl's gift box.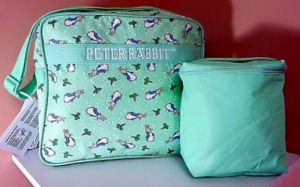 Baby Diaper Bags
DIAPER BAGS
A diaper bag filled with goodies is a good idea for any theme and this especially holds true for this famous bunny rabbit. Tuck a cloth book and a plush stuffed toy inside and you can even skip putting your collection of Beatrix Potter baby gifts in a box.
Please stop back and visit with us to find many Beatrix Potter baby nursery ideas and the latest in Beatrix Potter gifts ideas that you will not want to miss.