Proper Tea Party Invitations with Wording for Showers and More
Break out the broad brim hats, address the tea party invitations and pray for a sunny day with fine weather. All girls, both young and old, like the opportunity to put their pretty manners and refined language on display from time to time and there's no better venue for a cultured gathering than a formal Victorian tea party.


Tea Party Baby Shower Theme
And what's the right way to kick off any successful party or baby shower? Invitations that reflect the theme of the party, of course! We have some excellent tips and techniques that you can use to print your invitations for a tea party, transform some cards that you already have on hand or what to look for when you go to buy invitations for your tea party.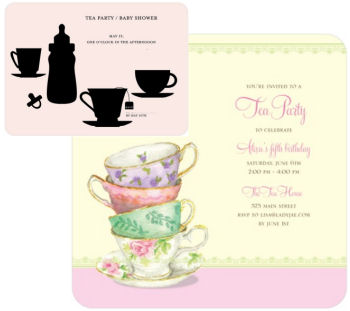 What Is the Occasion?
A dress up party for kids, a baby shower or a charity fundraiser are ripe for the picking where tea parties are concerned. The sheer versatility of a vintage Victorian tea party is a very good reason to keep a large inventory of invitations. You wouldn't want to be caught lacking should your young lady want to entertain her friends or if your friend is expecting a baby. Identical invitations will work for either celebration. The wording inside your tea party baby shower or birthday party invitations will be what sets each event apart from the other.


Appropriate images for printable invitations might be something as simple as a graphic of a pair of lady's gloves draped across a linen tablecloth or a garden hat that might have been carelessly blown by the breezes across the English country home's lawn during a rousing game of croquet. Either of these clipart images would be easy to find and print on some blank card stock. Another idea for inexpensive, personalized Victorian tea party invitations would be to use some stickers of cabbage roses as a medallion on the front of your card.


Tea Party Invitation Ideas
For an informal child's Victorian tea party, you might want to take the cheap route and print free invitations on plain white paper for the tea party. If you are inviting guests for a special occasion like a birthday party rather than an impromptu play date you might want to buy some invitations that match the party decorations and tableware.

Return to Unique Baby Gear Ideas to fine more information on baby shower themes and decorating a nursery.