Sweet Tea Party Bedding for a Proper Pink Baby Girl Nursery Room

Tea party bedding for a baby girl's nursery room with patterns of vintage tea pots, tea sets and pictures of tumbling hats and gloves are so much fun for little girls of all ages.  The delicate pastel color combinations are right out of an English garden but not so proper that a little diva will demand something more modern.
There are several approaches the DIY decorator might consider in the pursuit of the perfect tea party nursery bedding set. The most popular as well as the most versatile is the classic rose garden crib set and lovers of literature might be interested in an
Alice in Wonderland tea party theme nursery
bedding set.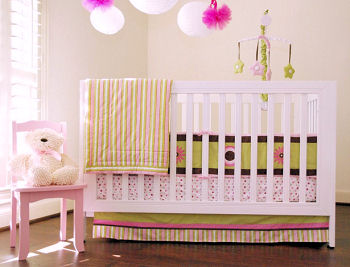 Go Here to See More
The whimsical pictures of Alice and the characters from the story laid an excellent foundation for a display of Alice in Wonderland storybooks and collectibles that decorated the rest of the bedroom with charm and grace.
TEA PARTY THEME NURSERY IDEAS for BABY GIRLS
If floral prints are what you picture in your mind as the perfect set of tea party baby bedding, then a set of crib bedding covered in yellow or pink cabbage roses on an antique white or ivory background or a set of nursery bedding with dainty sprigs of lavender flowers scattered here and there on a background of spring green are certainly appropriate as would be some graceful butterflies or honeybees.
A crocheted lace baby afghan draped over the headboard of the crib and some ruffled curtains at the nursery windows will complete the look as well as to serve a purpose in the day to day care of your precious baby girl.
Please make plans to visit
Unique Baby Gear Ideas
often to see the latest in tea party nursery decor for your little girl's room.