King's Castle Baby Nursery Theme
by Jan
The king's castle baby nursery theme on this page was designed for a little prince who bears a very royal-sounding name; this baby boy's name is Kingston! How perfect is that?


As you can see, the walls of this baby boy's nursery are a work of art in and of themselves.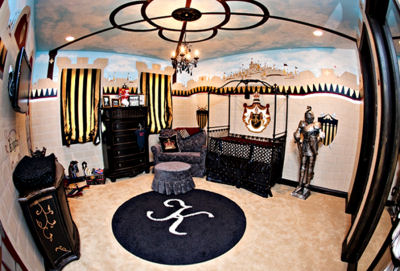 At eye-level, the beige colored (faux) stonework of the castle walls provide a beautiful contrast with the black crib and nursery furniture. Above the painted masonry, the upper third of the wall features a painted medieval scene under a painted cloud mural that gives the room a spacious, airy feel.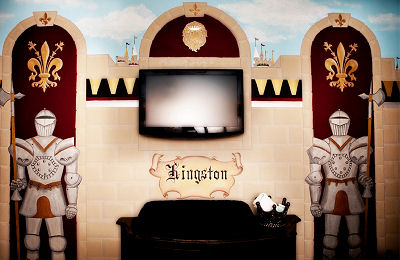 Go here to get
medieval decorations for your little prince's room.
Two knights in armor standing guard on each side of the changing area are reminded of the royal nature of their task by the crown shaped receptacle holding the little prince's diapers.
On the wall above the table is a flowing banner personalized with the baby's name embellishing the impressive trompe l'oeil painting technique and golden Fleur de Lis.
The walls of this little prince's nursery bathroom are painted with bold beige and black stripes and accented with a shelf filled with kingly decorations.
Ashley chose the perfect pose for Kingston's newborn photo shoot.
To see more pictures of Kingston's room as well as more of Ashley's incredible baby photo shoots please visit her blog,
A Picture Life
and, of course, visit
Unique Baby Gear Ideas
often!