Liam's Frog Prince Nursery Theme
by Bobbie
(Iowa Park, Texas)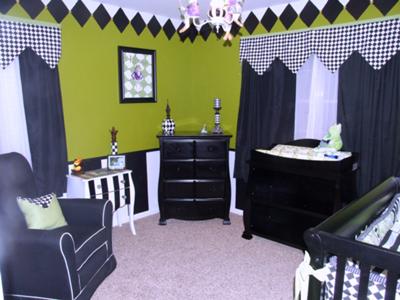 Our Baby Boy, Liam's, Black, White and Lime Green Frog Prince Nursery Theme
Our baby boy, Liam's, frog prince nursery theme was designed and decorated with a lot of hard work and love. My daughter-n-law and I looked very hard to find a whimsical theme that would make the room cute while keeping it masculine and suitable for our little prince's room.




Finally, we decided that the only clear choice was a frog prince theme.
Go here to

e
.

After we had the custom painting done of a Frog Prince every aspect of the baby's room evolved from there.
The nursery's color scheme is black, white and green. The black and white accent the lime green wall paint color, Fresh Parsley made by Valspar. The
frog art for a nursery
that we designed was the inspiration for our color choices.
We painted 12 inch wide stripes on the bottom part of the wall using black white satin finish paint. For the border that is positioned where the wall meets the ceiling we painted a diamond shaped pattern using a diamond stencil that I made myself. Then I sponged metallic gold dots at the point where each diamond meets.
I made all of the prince
frog nursery bedding
myself using fabrics with stripe and diamond patterns and frog accents. In addition to making Liam's crib set, I also made the nursery's curtains, throw pillows, etc. A friend made the crown crib cornice and it may be my favorite feature in the room.
In addition, we had a custom froggy chandelier made with little frogs that replicate the one in the painting.
A lot of love and hard work went into decorating this baby boy's nursery to make it This truly Fit For A Prince...
From the Webmaster
Thanks so much for sharing these amazing froggy ideas with
Unique Baby Gear Ideas
! I love the way that you balanced the lime green wall color with the black and white accents as well as the diamonds and stripes. You did a beautiful job in putting Liam's room together and I am certain that the moms who visit are going to love it as much as I do!