Free Printable Charming Little Prince Quotes for a Baby Boy Room 
The FREE charming little prince quotes for a baby boy nursery wall that you see below would make a lovely baby shower gift, framed and wrapped in a pretty bow.  I chose colors and fonts that are "all boy" for the layout of the design. 
The print can be enlarged or reduced to fit your frame and if the colors that you see here don't work for the little boy's room; feel free to copy my design so long as you give credit and link back to this page.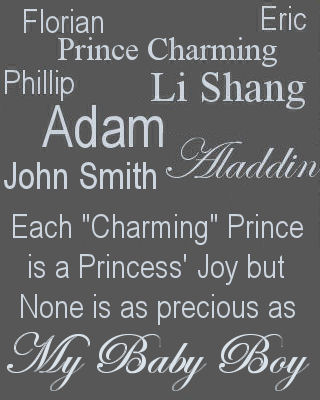 Charming Little Prince Quotes for a Baby Boy Nursery
Famous Prince Charming Quotes 
Most quotes about Prince Charming are credited to girls who dream of a valiant prince riding up on a beautiful white horse to rescue them from danger. These statements would be better suited to a Disney Princess nursery than a prince nursery theme. That's why I came up with my own design and short poem; I couldn't find any Prince Charming quotes for a baby boy nursery that were suitable. It's more likely that a pre-teen girl would be "waiting for her Prince Charming".
A Twin Prince and Princess Nursery for a Baby Girl and Boy
A little prince and princess nursery theme is a very popular with parents of fraternal twins. If you are decorating a room of this type, you might consider framing a copy of my
Printable Disney Princess Names List
to frame and hang over the baby girl's crib and a copy of my little prince quotes for over the baby boy's crib.
If you use either of my prints in your baby's room, I hope that you will return to
Unique Baby Gear Ideas
and share your
baby boy nursery
pictures with other moms-to-be who stop by for inspiration.