French Baby Room Ideas
by Rae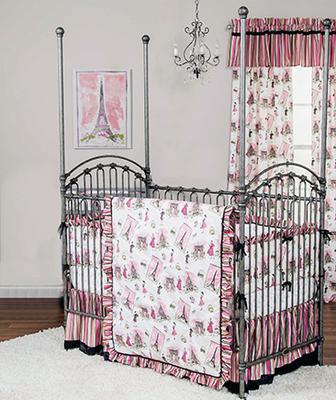 French baby girl pink, black and aqua crib bedding with French poodles, polka dots and Eiffel Tower fabrics.
This is the crib bedding set that I'm using as inspiration for my French baby room's color scheme. I love the colors and the combination French Poodle, Eiffel tower theme of the fabric. When I first started decorating the nursery I thought that my decorating style would most likely be French Country.


The kitchen and living areas of our home are decorated in a Paris apartment style.



The breakfast room is where I display my vintage rooster collection and vintage Parisian cityscapes.
Go here to see more
.
While shopping for the fabric that I wanted to use for the crib quilt, I found this cute custom French baby bedding collection and knew that I need look no further.
It has a modern look, unlike the rest of our home, but it won't be out of place since the door to our baby girl's nursery opens into a hallway that has a neutral wall paint color decorated with architectural items we collected during our travels.
My question is what would be the best color to paint the walls in this room? Solid pink would be out of the question since the one objection that I had to this French baby bedding collection is the large amount of pink fabric. A friend of mine bought a commercial set of pink French poodle baby bedding (Baby Trend?) that has been discontinued and her baby girl's room turned out to be WAY too pink and white for her taste and I don't want to make that mistake. Can anyone help?
From the webmaster:
I remember decorating a baby girl's nursery that had the very pink French poodle crib set that you mentioned. I'm not sure how your friend managed to control the overabundance of pink in the room but the way I approached the issue was to recommend a black baby crib and furniture. This didn't completely solve the problem since we were working in a large nursery with high ceilings so we took things a step further by painting the wooden moldings black and replacing a crystal chandelier with a black wrought iron chandelier.
Your situation is different since you have the option of painting the walls with a turquoise or aqua blue paint color although you might also consider buying black nursery furniture and light fixtures as a way to blend the modern decor with the vintage style of the rest of home. The hallway you mentioned will serve as a buffer between the two similar, yet different decorating styles.
Those are just a few nursery ideas for you to think about. I'm sure some of the talented moms who visit
Unique Baby Gear Ideas
will be more than happy to bounce a few suggestions around with you as soon as they find a little time.