Personalized, Embroidered Cloth Baby Diaper Cover Ideas
Cloth baby diaper covers are a necessity if you choose cloth over disposable diapers. Their function is to keep the frequent deposits made by babies in their diapers under control. Back in the day before disposables were introduced and advertised as being a both cheap and easy way to handle diapering duties, rubber pants were used over the cloth diapers.


Unlike cloth diaper covers, these were stiff, scratchy, diaper rashes were a problem and they leaked as they were not absorbent except for the elastic around the leg openings. But even with those problems they were the best product available for the task in this timeframe. Then came the time when many mothers fell out of love with disposable diapers. There were many excellent reasons to return to cloth diapers ranging from saving the environment to saving money.



Most moms find themselves too busy to make their own diapers unless there is a special need. But if you would like to sew your own soakers, there are plenty of free crochet diaper cover patterns, sewing patterns and polar fleece diaper cover patterns that are included as part of a complete layette that are available for purchase. There are diaper cover patterns Perhaps their little one is difficult to fit or they want a particular color or style not on the market.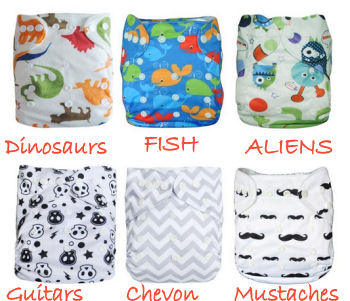 Go Here to See More
But there was still a problem of moisture and on the rare occasion, poop, leaking from even the most fitted diaper. Rubber pants had proven to be a less than attractive option. The answer to this dilemma even for nighttime diapers was comfortable baby diaper covers.
Are Baby Diaper Covers Really Necessary?
Diaper covers are used as an extra layer over or around a fitted or pre-fold diaper to prevent leaks and keep the inevitable dampness from seeping through onto your baby's clothes or yours for that matter.
The Best Types
It's hard to name any one as the best baby diaper cover on the market because it seems every mom has a different opinion based on their lifestyle and their baby's sensitive skin. Some prefer the easy on and off convenience of pull-ups and others like diaper covers that use snaps or Velcro as fasteners. Then there is the issue of the cover's appearance. Many parents could care less about looks so long as the diaper cover keeps the mess under control while others might appreciate a denim diaper cover for their baby boy or a personalized baby diaper cover for their baby girl as a gift at their baby shower in addition to their plain cotton or wool ones that they use for everyday.
Material
One of the most popular fabrics surprisingly is wool. But you will find styles made of organic cotton, fleece, polyester (PUL) and vinyl. Wool and polar fleece fabric has been found to be best for babies with sensitive skin. Polar fleece diaper covers do an excellent job of wicking moisture away from a baby's skin which makes this fabric popular for use at night and is easy to wash and dry. However, if you are a mom who is doing her best to go natural you should know that polar fleece is a synthetic fabric.
How Many Will I Need?
It depends on how often you do a load of washing, so there is no magic number. I found that around eight to ten worked for me although five or six might work for a more organized person. This may seem like a ridiculously small amount considering how many times a day we change our baby's diapers. But baby diaper covers, unlike cloth diapers, can be reused a couple of times without being washed if you take a damp cloth and wipe the inside after each change.
HOW MUCH DO THEY COST?
I have found that the less fitted and more plastic feeling that a baby diaper cover seems to be the cheaper they are. You can find a basic cloth diaper cover for pre-folds at very affordable prices beginning at $10 or less. My favorite wool soakers (which I have found to be the best overnight cloth diaper cover) are pretty expensive at around $25 to $30 brand new but I have picked up some used wool diaper covers for half the cost.
Before you reject wool because of the high price, remember that they are one of the best at keeping baby dry plus you don't have to wash them as often. They are also great for babies' bottoms that are susceptible to diaper rash because the breathable wool fibers maintain an optimal body temperature which is supposed to reduce the danger of diaper rash that is commonly associated with heat and bacterial growth.
Return to Unique Baby Gear Ideas to get more information on cloth diaper covers and other newborn care products