Best Baby Sesame Street Nursery Decorating Ideas and Bedding
We have lots of baby Sesame Street nursery ideas featured in pictures shared by other moms and dads that visit our website. These education-minded parents have found new and innovative ways to feature your favorite famous Sesame Street characters in the nursery's decor! They have shared tips on how to stage your little one's first room for learning and fun that will continue from the time your child is born through the toddler years using energetic, colorful motifs that they enjoyed themselves when they were kids.


Many DIY decorators prefer to choose their favorite character and use them as the primary focus of your decorations rather than including the entire cast of puppets in order to follow a particular color scheme.
For example, do you have a folder full of blue nursery decorating ideas that that have been collected since before you got pregnant? If that's the case, a Cookie Monster bedroom design may be just what you need. Take a look at the pictures of Sesame Street nursery pictures below to see if there is something that you would like to include in your own decorating project.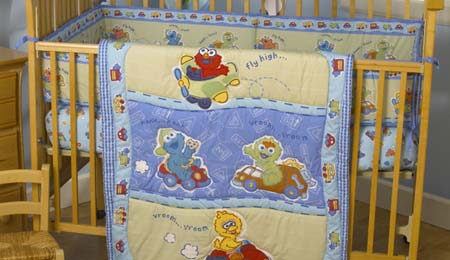 GO HERE TO SEE MORE
crib sets and nursery decorations featuring Cookie Monster, the Count and Bert and Ernie.




SHARE IDEAS - PICTURES of Baby Sesame Street Nursery Decor
Do you have a great set of Sesame Street baby bedding or a picture of a nursery that you decorated? Share it!
Baby Sesame Street Nursery Ideas, Crib Sets and Room Decorations
Click below to see contributions from other visitors to this page...

How to Design a Sesame Street Nursery Not rated yet
I learned very quickly that decorating a Sesame Street nursery was not as easy as I thought it would be. I got the bright idea of working with this theme …
Favorite Sesame Street Characters
There are so many Sesame Street puppets and it would be nice to design a child's room around some of the unique characters whose images are not as prevalent and widely marketed in Sesame Street items for babies. To use the less recognizable members of the crew, you might have to make your own Sesame Street stuff and draw your own nursery wall decorations and artwork. For a quick and easy baby nursery theme, here are some of the more popular Sesame Street characters that you will printed on Sesame Street crib bedding sets.
ELMO - A fuzzy giggling favorite
BIG BIRD – The tall goofy yellow and orange feathered friend
COOKIE MONSTER – A royal blue puppet with a ravenous appetite for sweets
ERNIE and BERT – The inseparable roommates that occasionally disagree
BABY BEAR - From so many Sesame Street episodes who is Telly Monster's best buddy!
OSCAR THE GROUCH – The grumpy grunge green puppet who rarely leaves his trashcan abode
CHOOSING A SESAME STREET COLOR SCHEME
Each of the Sesame Street characters comes with their own unique color combinations. If you don't have a favorite character that you'd like to use as a focus for your nursery decorations, perhaps you should look at the colors of each. Cookie Monster is a cool shade of royal blue so royal blue crib bedding might be called for which would give your nursery a cool color scheme. Big Bird is bright yellow and orange which would call for a warm color scheme. Here's a decorating tip, pick up some Baby Sesame Street plush stuffed animals and put them side by side and see what colors work well together. For instance a Cookie Monster and Big Bird combination might be fabulous together with the contrast of cool and warm colors. A combination of Elmo's bright red fur and Big Bird's yellow feathers with no cool colors to tone things down could be irritating. Hot, funky colors are fine, but they are not elements that one might associate with a tranquil space.
BABY SESAME STREET BABY FABRICS
Licensed Baby Sesame Street baby crib bedding fabrics are available featuring lots of motifs. The motifs are printed on gender neutral backgrounds of cream, baby blue and sage green with various trims of checks, plaid or fabrics with small pictures of the characters manufactured specifically to be used as borders for baby comforters, bumper pads and other Baby Sesame Street nursery items and accessories.
These are just a few basic baby Sesame Street nursery ideas! Sesame Street stuff for babies are not just decorations for a baby boy's nursery or a baby girl's bedroom. There are
Baby Sesame Street baby shower decorations, invitations, favors and tableware to put together the perfect baby shower for a Sesame Street fan
Sesame Street Halloween Costumes for babies and toddlers that provide the best opportunity to dress up like the pretty purple Count Von Count
Sesame Street themed baby furniture and baby gear.
Don't forget to take pictures of your Sesame Street decor to add to our gallery of pictures here on Unique Baby Gear Ideas. Make extra copies of the pictures to include in your baby's memory book or time capsule for the next generation to enjoy.