Baby Arctic Nursery Theme Decorating Ideas with Penguins and Polar Bears Room Decorations
An arctic nursery theme can be a sweet place where you can escape summer's heat or show some respect for the inhabitants who call that icy region up north home. It is also true that an arctic themed room can be an excellent teaching tool to educate kids as to what is going on up there with our chilly friends the seals, the polar bears and the penguins.




There are so many reasons that an older kid's bedroom or an artic nursery theme would be so….well, cool! Penguins are cute as can be and are making their grand debut as celebrities in some of the blockbuster hit films of the season. I can't wait to see some of these artic ladies and gentlemen making their walk down the red carpet with the other famous movie stars.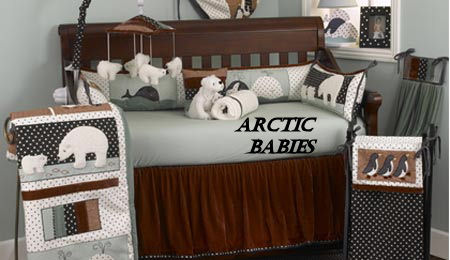 Go here to see more
crib sets and room decor for your little Eskimo's room.




If the expense of framed pictures and posters of arctic creatures is not in your decorating budget, perhaps some inexpensive penguin or polar bear wall decals will do the trick.
The ice caps are melting and what better way to bring awareness to the plight of polar bears, penguins, seals and many other creatures that call the coldest regions of the earth home, than to feature them in artwork, our homes' decorations and by designing an
arctic nursery theme
where our newborns can start very early to be educated by what we display on the baby nursery walls.
Another possibility would be to buy a stencil (or make your own) and create your own artwork by stenciling the pattern directly onto the walls as a border.
Remember that every little thing of this nature that we can do draws attention to the need to clean up our environment and save the habitat of endangered animals.
Please make plans to visit us soon to see the latest in penguin and polar bear baby nursery ideas and to share your pictures of your baby's arctic themed room.