Baby Penguin Theme Nursery Ideas for Boys and Girls
We have some baby penguin nursery ideas that will help you to design the arctic theme of your dreams. Penguins and their pal the polar bear play a huge role in this design that is warm, cozy and comfortable, nothing like their natural habitat.




With your
baby penguin bedding
in hand you can proceed with the rest of your arctic decorating project with some general ideas of what the best color scheme for the bedroom will be. Baby penguin themes gain in popularity during the winter months and especially around the Christmas holidays. However, the issue of global warming has bumped polar bears and penguins into the spotlight year round!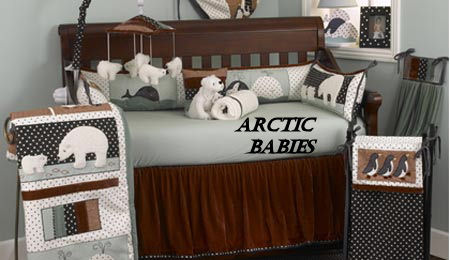 SEE MORE HERE
The popularity of this chilly, arctic decorating trend could be:
Penguins in their cute, striped stocking hats make excellent decorations for a primarily black and white baby's room
Happy Feet and other penguin movies have turned them into celebrities
Environmental awareness
MORE Penguin Decorating Ideas
Penguin Baby Gifts
Arctic Penguin Baby Nursery Ideas
Whatever the reasons, we love decorating with penguin snow globes, gifts and pictures of funny penguins.
PENGUINS, POLAR BEARS - NURSERY WALL DECALS and STICKERS


Penguin wallies will make decorating your baby's penguin nursery theme easy as can be. You will find many wall decals that feature many of our artic friends and if you don't, you can always visit one of the many stores online and have whatever you want custom made.
PENGUIN DECORATING QUESTIONS and SUGGESTIONS
Do you have a great set of penguin baby bedding or a picture of a nursery that you decorated in an arctic theme? Share it!
PENGUIN BEDDING, NURSERY DECORATIONS, PICTURES and DECORATING IDEAS
Click below to see penguin baby bedding sets and nursery decor.
PASTEL PENGUIN and POLAR BEAR BABY BEDDING

This pastel penguin and polar bear baby bedding set may be better for a baby girl's nursery than the sage green and chocolate brown crib set that …
The decals will make an excellent wall arrangement over the baby's crib and should blend well with the other penguin decorations like snow globes and musicals. You can pick up sheets of baby penguin stickers as well as other decals. Many sets of stickers come printed with pictures of endangered species that have nothing to do with ice and snow like baby jungle cats, monkeys and animals.
The baby penguin pictures can decorate the nursery walls and ceilings in the nursery for years. When you're ready for a makeover, your peel and stick decorations are easy to remove when you give the nursery a makeover and change the decor. Please visit the nursery picture gallery here on Unique Baby Gear Ideas often to see more tips for arctic designs.