Gender Neutral Baby Bedding and Nursery Decorating Ideas
There are many modern nursery designs that call for gender neutral baby bedding sets. The need for neutral crib bedding may be due to a problematic color conflict with the decor in the other areas of your home. Or there may be a need for crib sets that are unisex to accommodate a set of fraternal twins where nursery bedding that is obviously for a boy or a girl will make a cohesive look in baby's room extremely difficult if not downright impossible.



Here are a few of the top gender neutral baby bedding sets for the modern gender neutral nursery :
Jungle Nursery Themes
Unless there are pictures of baby animals in the fabric wearing a dress, any animal you choose may be a good choice in neutral baby bedding. Neutral baby bedding with fabrics printed with cute bears, bunny rabbits, deer or monkey bedding sets are excellent unisex baby bedding options.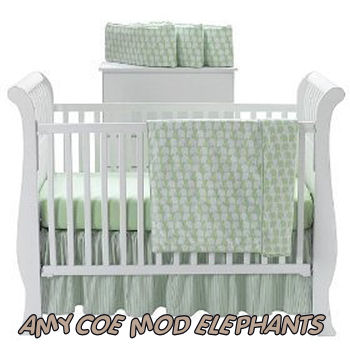 MUSIC
The beauty of music knows no gender. Musical notes can decorate neutral crib bedding for a boy or girl with no trouble. Highlight your instrument of choice or keep things middle of the road using pictures of whole, half and quarter notes alone.
BUGS
Ladybugs and butterflies may lean toward a nursery for little ladies, but dragonfly crib bedding can be an excellent motif for the gender neutral nursery bedding of your dreams. This may be one of the most versatile sets in our list when it comes to color.
BIRDS
From patriotic eagles to mallards, birds are fair game for both sexes. You may want to skip Daffy and Donald Duck from the cartoons, but yellow rubber ducky bedding would be cute as can be.
CARTOON and TELEVISION CHARACTERS
Sesame Street crib bedding is a colorful way to incorporate gender neutral nursery bedding into your baby's room design. The puppets are a unique and interesting mix of male and female with Big Bird and other characters that are unisex. Baby Looney Tunes crib bedding sets are another possibility.
CIRCUS
Vintage circus baby bedding is one of my favorites. There is so much you can do with a big top theme in a neutral nursery. The animals as well as the scenery are a decorator's delight of color, design and merchandise availability.
ABC'S or ALPHABET
Alphabet crib bedding in primary colors is an educational as well as attractive option in neutral baby bedding. Pretty illuminated letters can decorate the crib quilt for a boy or girl equally well.
PATTERNS
If the ideas of decorating using one of the most popular baby nursery themes are not your preference, perhaps patterns will be more to your liking. So long as the colors leave out or keep pink and blue to a minimum stripes, dots and other shapes are completely unisex.
If pastel pink and blue simply will not work with your nursery's design, you can appreciate that today's market offers so many fashionable alternatives. It's so helpful that modern decorating techniques have greatly expanded the ranges of color that are acceptable for both boys and girls. The tremendous broadening of decorative opinion is good news for parents and decorators who want something creative and stylish rather than the less than bold, water color pastels that we have had pushed on us for far too long.
In fact, the collections that qualify for being grouped under the neutral baby bedding classification are so numerous that I will probably not be able to cover them all in one nursery decorating article. Personal taste still figures into the equation. Some may still consider a puppy dogs nursery suitable for baby boys only while others may feel that they are appropriate for either sex. It boils down to the fact that beyond pink baby girl nursery bedding and blue baby boy crib bedding sets that practically everything else may be workable as gender neutral crib bedding if accessorized properly.
The bottom line is that everything from sports to baby building blocks can be utilized as gender neutral baby bedding in the nursery of today. Pick a crib set that you admire, eliminate the obvious shades of pink or baby blue and in most cases you will be good to go.
Return to Unique Baby Gear Ideas for more recommendations on designing your kids' first room.