Carly's Pink Owl Nursery Theme Reveal Featuring Custom Baby Bedding and Puff Crib Quilt
Carly's pink owl nursery theme features so many pretty items including a custom owl baby bedding set with a puff crib quilt, wall bunting and more that were all homemade by Mom, Ali.  Honestly, the things she can do with fabric and crafts supplies are an inspiration to us all!  It's obvious that she had so much fun decorating her baby girl's nursery and that she has a real talent for DIY decorations and sewing; oh, how I wish I could sew like this lady.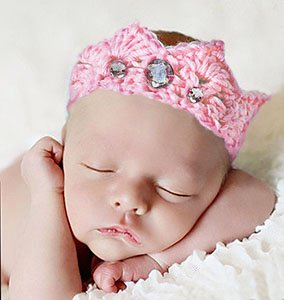 Go here
to get ideas for cute baby photo props!
Take a seat, friends, and get ready to bookmark this page and all of the tutorials that she recommends on the
Jen and Ali
blog where you will find lots of craft projects (including a balloon wreath I'm going to tackle as soon as this nursery reveal is posted..yes I am!) with instructions, sewing tutorials and recipes..so many delicious recipes.
Even if Ali causes me to blow my diet I will forgive her because she balances the food with lots of gifts and decorations to make that will burn those calories. On that note, shall we move on to some of the most delightful
pictures of a baby's nursery
that I've seen in awhile?
DIY Owl Nursery Theme Decorating Ideas for a Baby Girl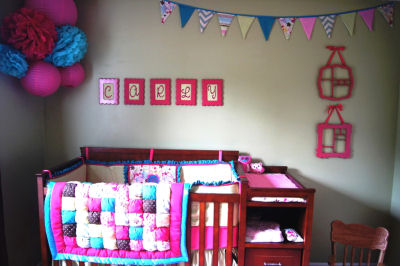 Go Here to See More
This photo shares some of the items that Ali created. She made the
owl baby bedding
, the puff quilt, the crib skirt, changing pad cover
and
the wall bunting. She made the crib quilt (64 puffs!)and embroidered Carly Anne's name on the back in her 28th week of pregnancy.
Here is the part of the crib set that will be of interest to every mom-to-be that is looking for decorating ideas for an owl nursery theme.
Owl Baby Bedding and Décor
Anyone that knows their way around a sewing pattern are undoubtedly impressed! Those of us that are sewing machine challenge (such as myself) will most likely be in awe of her mad skills. Her work is just that good and the crib set is just so cute!
Wait; there's more. Ali also whipped up matching wall bunting using scraps of fabric left over from the quilt, learned to make tissue paper flowers, made a ceiling mobile and still wasn't done.
The hot pink and blue tissue paper pom poms and lanterns used to make the ceiling mobile add a nice pop of color in the corner.
The ceiling mobile draws the eye upward and visually expands the size of the room. I love how the solids, horizontal and chevron stripes and patterns of the fabrics complement each other.
The mobile and the fabric banner that mom made surround the framed letters that spell out the baby's name,
CARLY
.
I hope that you have enjoyed the tour of Carly's pretty,
pink owl baby nursery
and that you will visit her mom's blog, Jen and Ali, and then stop by
Unique Baby Gear Ideas and Nursery Themes
to share pictures of your own decorating ideas when you're done.