Will's Slumber Boat Nursery Theme
by Melinda
(Utah)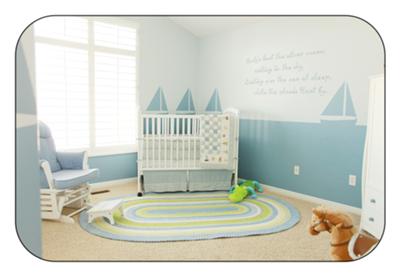 Will's Slumber Boat Nursery
Will's Slumber Boat Nursery Theme came to me as a memory from my own childhood. I remember the feeling of being held close by my grandmother as she rocked me and sang "The Slumber Boat." I can still hear her rich alto voice and feel her nearness. It was soothing; peaceful. That was the feeling I wanted my baby boy's nursery to have.



SLUMBER BOAT NURSERY THEME & DECOR

I had an idea that the decor would be somewhat monochromatic and it evolved from there.




SEE MORE HERE
Sailboat Baby Bedding And Nursery Furniture
As I set out to create this nursery, I had a few things to work around. We were on a tight budget of $200. I needed to re-use my older son's sailboat crib bedding (Babies R Us), his crib, and his rocking chair (Babies R Us).
I found the white armoire at Babies R Us. The style was similar so it was a good fit. The knobs didn't match my blues but that was easily fixed with some paint.
Sailboat Nursery Wall Painting in Decorating Ideas
I wanted to do something interesting with my walls, and I knew I wanted it two-toned (Sherwin Williams Hinting Blue and Notable Hue), but beyond that I didn't know what to do. The inspiration for my paint came from the Pottery Barn Kids catalogue. The walls in one of their kids' rooms were painted using a two-tone paint technique with the silhouette of a monkey against the lighter color. I loved the simplicity of it.

How To Make Your Own Nursery Wall Stencils

Poster-board and packaging tape were all I needed to create the sailboat and moon stencils. I wrapped the cut edges with tape to keep them from getting soggy with paint. It worked beautifully.

The rug is the room's unifying feature. It not only pulled everything together, but it added the pops of color the room needed. I found it at an outlet store called DownEast Outfitters.

Baby Boy Nursery Pictures

And finally, Will's Slumber Boat Nursery Theme wouldn't have been complete without my lullaby. It brings the room a sense of nostalgia that I love. I created the letters in Photoshop, which allowed me to color match them to the paint. Then I printed it at home using vinyl sheets I ordered online. They were a bit of a process, but worth the trouble.

As a side note, I am a photographer specializing in infants, children, and families. If you live in the Salt Lake area and are interested, please see my website: www.melindabryantphotography.com or e-mail me using the comments form below this page. Thanks!

From the webmaster:

Thank you, Melinda, for sharing your touching story and your baby boy's nursery design with us. You have an excellent eye for color and have exquisite taste. Moms in the Salt Lake area are so fortunate to have such a gifted photographer nearby!

All the best, Jan