Cakes and Decorations to Make Yourself for April Showers Baby Shower Themes
Food Ideas and Party Favors
One of my favorite April showers baby shower themes is the umbrella shower because the cakes and decorations can be gender neutral or it would be very easy to make the party more gender specific in colors for a baby boy or girl. 
The decorations that we have to show you on this page will also be easy to make for a baby boy or girl if the hostess would like to reveal the sex.
There are many decorations that you can make yourself including the adorable rain cloud mobile made of tissue paper that can be given as a gift to the guest of honor after the party is over.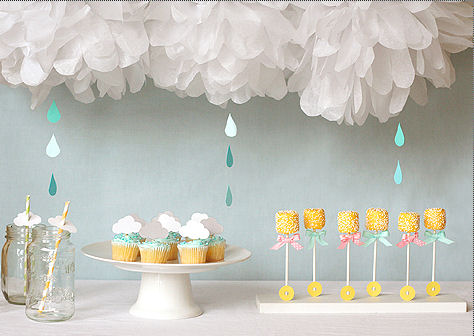 This is one of the easiest
baby mobile
crafts ever. The color of the raindrops can be adapted for a baby girl or boy.
Here are the instructions for an easy way to make and attach the raindrops to the white, tissue paper clouds using transparent nylon thread. Simply draw and cut out or use an extra large heart shape punch to make a paper heart. Fold the heart in half, add a dab of glue and secure it around the transparent string at an angle so that no matter which way the breezes blow the raindrops will be visible. After the glue has dried, tie the strings onto the bottom loop of the clouds.
You can make most if not all of the decorations yourself out of construction paper and cheap, white tissue paper in any colors you choose. This example, styled by Lisa Storms, has a blue and yellow color scheme including cake pops and umbrella cut outs and is cute as can be but don't let that keep you from experimenting and putting your own unique spin on an April showers baby shower. The rain cloud mobile can be used to decorate any part of your April showers baby shower venue so long as the area isn't too windy or wet. It's made of inexpensive, white tissue paper pom poms with a wire hanger added to the top of the mobile to attach it to the ceiling and another one below that you will use to attach the paper rain drop cut outs.
Baby Shower Food Ideas
April showers baby shower cupcakes could be decorated with party circles or decorated with white, cloud cut outs that can be left plain or with wording added to the printable sheets. Then, simply cut the shapes out and glue them onto a wooden toothpick.
Add edible, blue pearls over clouds of frosting to represent raindrops in keeping with your April showers theme.
Create some extra cloud cutouts to decorate colorful beverage straws. Cut two holes using a circle punch and feed onto the straw. Place them in glasses or mason jars to add color to the food table display and make serving fast and easy!
I don't see hostesses tossing their favorite recipes for delicous baby shower cupcakes anytime soon but marshmallow and cake pops and marshmallow pops are also very popular make an adorable substitute for classic baby rattle cakes.
There is just something so fun about nibbling a treat on a lollipop stick. From a hostess' point of view, a tray full of pretty cake pops makes a festive display. To save time, make a custom tray to display your cake pops that can be used over and over again with a few blocks of wood and a drill.
The marshmallow baby rattle pops are easy to make! Decorate candy coated marshmallows with colored sprinkles. You can either tie the bows onto the lollipop sticks or tie the ribbons into bows and use your glue gun to stick them on (I find that they look nicer using the glue gun method) and then insert the sticks into the holes of the cake pop tray.
Use a cut out to create a cute umbrella themed pencil that can be used to play April showers baby shower games or to jot down some parenting tips and advice for the guest of honor. An easy way to make the umbrella topper is to use half of an XL circle punch at the edge of a sheet of cardstock with a baby pattern or in your April baby shower colors.
Then take a medium size circle squeeze punch to cut out the bottom scallops. Draw the details onto the umbrella using a black pen and use your glue gun to attach it to the pencil.
Use matching paper to decorate treat bags filled with some type of candy "drops" in keeping with the "April Showers Make May Flowers" theme. Paste a few paper raindrops and flowers on the cellophane bag holding your April baby shower favors and a thank you note let everyone know how much you appreciate their "dropping" by. Thanks for stopping by
Unique Baby Gear Ideas and please check out
Lisa Storms
blog to get detailed instructions for all of the crafts projects mentioned on this page.