Baby Topsy Turvy Circus Bedding in Pink Fabric
Topsy Turvy Circus bedding consists of a toile print fabric with children's designs combined with other fabrics used as trim. Usually the other fabric accenting the Topsy Turvy toile fabric is a simple stripe, polka dot or even a solid textured material such as a chenille.



The background colors of Topsy Turvy prints are sometimes a unisex neutral shades of yellow or mint green. I'm sure that lavender and other colors could exist as well, but I have not come across them. There are also the gender specific colors of baby boy nursery blue and baby girl pink nursery colors.
There's one baby circus theme bedding set that has an interesting and unique color and fabric combination of:
Topsy Turvy toile print fabric with a minty green background
A Pink Polka Dot on Ivory or Off White polished cotton
A Pink Stripe on Ivory or Off White polished cotton
And it all looks absolutely fabulous! There are loads of ruffles and detailed insertions to make things frilly and interesting for a feminine baby girl's nursery theme.
TOPSY TURVY CIRCUS BABY CRIB BEDDING SETS in BLUE and YELLOW
BABY CIRCUS NURSERY BEDDING and THEMES
VINTAGE BABY NURSERY THEMES and BEDDING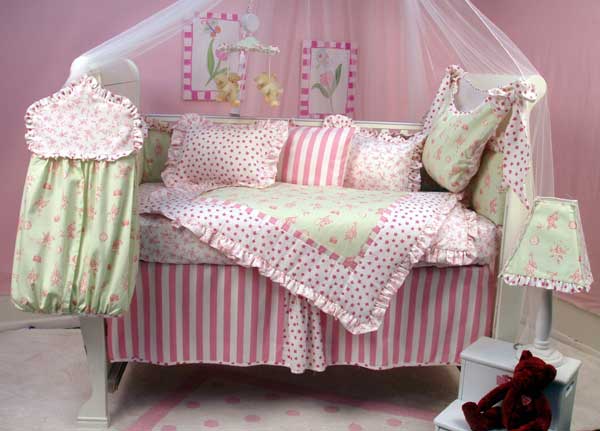 SEE MORE HERE
The decorations on the nursery wall were pictures of pink tulips hung with pink satin bows. These were seen peeking from behind a frothy sheer canopy draped over the baby's white crib.
The walls in the picture were painted a pink which was carefully chosen not to clash with the hot pink striped fabric used for the baby bed's dust ruffle.
Touches of the same toile print of the Topsy Turvy circus bedding print were used on the nursery accessories such as the
Ruffled diaper stack
A topsy turvy print mobile with teddy bears
The center of the baby's crib blanket or comforter

It's my opinion that this pink Topsy Turvy circus bedding set would look great with the walls painted in pink and green polka dots! However, if you choose a polka dot nursery rug like the one in the pictures this may be just too many nursery decorations covered in pink and green polka dots!

If all this pink is just too much, don't feel you will dilute or confuse your themed room by bringing in other elements of design. Too much pink and white goes past prissy and begins to cry out for something to anchor it! If you're a fan of shabby chic decor in the nursery, consider hanging vintage black and white pictures of the Eiffel tower or other architectural prints for balance. Another option that would look great with your Topsy Turvy circus bedding would be to display some French poodle prints and ceramics like the images one might have expected to see on a 1950s dressing table. Vintage toile prints are so flexible so have fun and find what works for you!

Return to Unique Baby Gear Ideas, Nursery Themes and Decorating Ideas for more information on Topsy Turvy toile fabrics and bedding sets in pink color combinations.