Toile Topsy Turvy Circus Bedding and Nursery Ideas in Toile
The great thing about Topsy Turvy circus bedding is that you can combine this classic toile print fabric with so many other fabrics such as stripes, stars or even colorful polka dots! This is a decorator's dream taken right off the pages of a little golden book!




Topsy Turvy crib bedding comes in gender neutral colors as well as baby boy blue and baby girl pink. I just love toile prints in a circus themed room for that reason! You can explore a mix of fabric textures such as Topsy Turvy and chenille and combine this toile fabric in childrens designs with bold dots and stripes without risking chaos surrounding your cute Topsy Turvy crib bedding!
Topsy Turvy circus bedding is so very popular for these reasons! First of all the classic pictures of children rolling hoops, playing with balls and laughing at the performers are just so precious. The circus characters and the children look like something taken from the pages of a vintage storybook. The subdued color schemes will allow you to paint stripes or polka dots on the nursery walls. Or you could even paint stripes AND polka dots on the nursery walls if you so choose. Topsy Turvy Circus toile is forgiving enough to allow you to be very creative!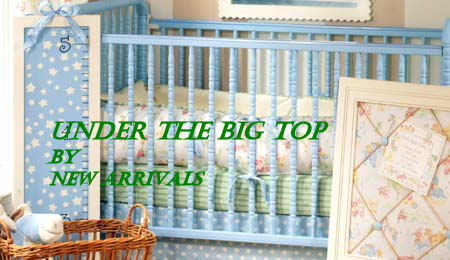 SEE MORE HERE
The Topsy Turvy Circus bedding sets offer such excellent versatility when decorating a circus nursery theme for your baby. The vintage print of Topsy Turvy crib bedding looks right at home with an antique cradle or baby bed. I can imagine a stunning nursery with an ivory sleigh bed or with baby furniture stained in a dark cherry finish. This print truly plays well with so many styles and I doubt that you will ever run out of ideas or ways to accessorize your circus themed bedroom for your baby!
If you have a baby boy, you may want to highlight the circus animals, clowns and of course the ringmaster in your circus wall decorations and accessories. The elephants, seals, lions and tigers will go nicely with the baby blue Topsy Turvy circus bedding.
With a baby girl, a circus wall mural with beautiful trapeze artists in sequin costumes or the lady bareback rider on her horse would be grand! And of course you will want the Topsy Turvy circus bedding in pink for a baby girl.
This baby circus theme Topsy Turvy crib bedding design is not the same as most circus theme infant bedding in primary colors that are very dominant. The soft shading and print of the toile fabric used in the bedding is calming and very workable. There's no need to limit Topsy Turvy circus toile to use in a circus themed room. If you are tired of the three ring circus look, remove your circus animals and concentrate on other motifs such as a moon and stars theme or paint over the circus mural and paint stripes on the wall!
Please plan to visit Unique Baby Gear Ideas again soon too find more Topsy Turvy Circus baby boy nursery inspiration PLUS a gallery of pictures featuring cute baby bedding sets and gift ideas for a newborn.