Recipes and Reasons to Make Your Own Non- Talc Baby Powder

One of the most compelling reasons to make your own no talc baby powder is the link to cancer.  After my friend lost her two year old to a rare type of cancer even the slightest connection is enough to concern me. If studies, at some point, indicate that there is no reason to worry, I will continue to make my own from the talc-free baby powder recipe on this page because it is an easy DIY crafts project that gives me peace of mind because I know exactly what is in it and because it saves money. 

I have heard moms say that they don't bother with powder but where I live, in diaper rash central, powdering those little bottoms can be a lifesaver.
Why Do Babies Need Baby Powder
Plain cornstarch and talcum powder has been used to prevent skin problems for generations. Since talc has been connected to both lung and ovarian cancers and GMO corn has arrived on the scene, making your own talc free baby powder as well as cornstarch free powder is a better, safer option well worth the time it takes to whip up a recipe.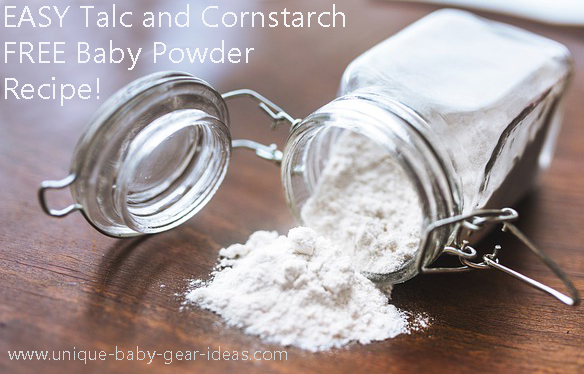 What is Talc
According to
this resource
talc is the softest mineral known. Did you know that it and soapstone are related? And did you know that it is used in making (drum roll, please) insecticides and paint among many other products?
Cancer.org
states that there there is talc that contains asbestos and talc that does not. The type that is not asbestos-free is generally accepted as being capable of causing cancer upon inhalation and not used in modern consumer products since the 1970s.
As for possible connections to the use of talc powder and ovarian cancer, studies have reported a slightly increased risk and others report no increase in the incidence of cancer.
All that information tells me is that I will not be buying any old talc baby powder at the thrift store to add to my collection of vintage toiletries and I definitely will not be using it on myself or my girls.
So..what can I use as a substitute that will not cause problems?
Talcum powder is most assuredly out and I do not want to use cornstarch because of GMO corn for many reasons.
No Talc No Cornstarch Baby Powder Recipe
Are you ready for this super easy two-ingredient recipe? Here we go!
Equal parts white kaolin clay and arrowroot powder in whatever proportions you want to keep in a container in your bathroom or on the baby's changing table. That's it! I love the scent of Johnson & Johnson's baby powder but unscented is always best in my opinion and there is no need to worry as to whether or not essential oils in the recipe will irritate your newborn's skin!
Get one of these
shakers to hold your no cornstarch, no talc baby powder. I have found that it works best to rub a small amount of powder in the palms of my own hands before smoothing it on my baby's body. I avoid a big "puff" of powder for either of us to breathe using this process.
Please feel free to share your own talc-free baby powder recipes with
Unique Baby Gear Ideas
.