SHABBY CHIC BABY NURSERY
by Gab
I took a vintage approach in decorating a shabby chic baby nursery for my daughter. Early in the project, I found a suggestion that indicated to first carefully shop for fabric or a crib set to use as an inspiration piece. Following this tip, I found the perfect one that looked exactly as I wanted.


Even though it had the color and style that I wanted, I also wanted to be certain that I was getting a good quality baby bedding set that would last for at least two years worth of laundering.



Rather than buying it on impulse, I came home and read reviews on Amazon and checked prices and was impressed that your article mentioned that baby bedding doesn't have to be expensive to be durable and attractive; I got my set for less than $50 and it got very positive reviews.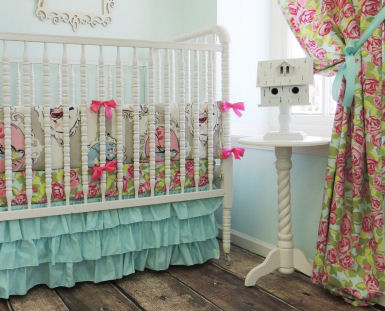 Go here to see more
The quality of the fitted crib sheets are the most important piece of any collection because much of the rest shouldn't be put into the crib for safety reasons. So the crib quilt or comforters, pillows etc. that aren't used often for fear of accidentally smothering them don't have to be laundered so often.
Since I bought extra crib sheets, my
shabby chic nursery bedding
should look good and last for quite some time!
I bought one of the sets for girls with a faded cabbage rose print that I knew would fade through many washings and even though the room is "shabby", faded is never a good look.
What's amazing is how the brand new fabric can be made to have just the perfect "worn" look that comes from line drying outside in the sun without ever having been washed the first time!
Some of my friends were very surprised that I chose to design a shabby chic baby nursery for my daughter because I'm not old fashioned in the least! I still can't explain why this style of nursery decor spoke to me but after looking at pictures online and in magazines the modern shabby chic
baby nursery themes
and decorating ideas seemed cold and impersonal and the shabby nurseries that I have seen here on
Unique Baby Gear Ideas
seem filled with warmth and love. And that's what I want for my baby girl and her room!