Reagan's Lots-a-Dots Polka Dot Nursery
by Bailey
(El Paso, Texas, USA )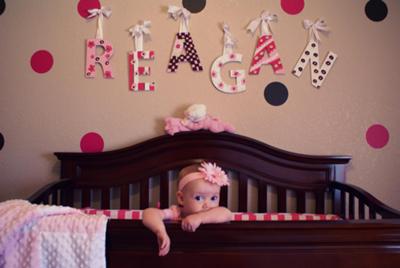 Our baby girl Reagan and her cozy crib! The wooden letters that spell her name are framed by the pink and brown polka dots that decorate her nursery walls.
We decorated our baby girl, Reagan Moira's, Lots-a-Dots Polka Dot Nursery design with polka dots primarily inspired by my love of polka dots and secondly by my desire to create a colorful environment that would inspire "play" and "whimsy". After searching for months for the right style of baby bedding and nursery curtains, I eventually just decided to make it all myself.


SEE MORE HERE
As an army wife and full time stay at home mom I had huge Pottery Barn type dreams for our first child's nursery decor. But I had to accomplish all this on a Walmart type budget which was all the more reason to do make my own baby bedding, window treatments, decorations; basically, I made all of it myself.
The fabric for the crib bedding and curtains was purchased at Hobby Lobby. Simple polka dot ribbons were sewn to the front and back of the curtains to bustle them up in a decorative manner.
I made all of the artwork and wall decorations myself including her name above her bed and the painting of the fairy tea party. I didn't have much of a plan when I bought crafts supplies. I just sat down one day and started painting them but they turned out beautifully!
I used acrylic paint on thick mat board letters found at hobby lobby to make the baby's nursery wall letters. I also used glittered clear puff paint to accent certain areas to add style and a little dimension.
For the painting, I searched google images using the search term "childrens art" and saved the images that I liked. To create my painting I sketched out elements from several different pieces bringing them all together into a whimsical little tea party scene.
The rug was purchased on sale at Target. Her changing table was customized with a super soft changing pad cover in pink and brown dots to match the
baby's polka dot nursery theme
that I call "Lotsa Dots".
I purchased two big plastic drawers from Walmart to add storage space, one for diapers, and one to hold creams and wipes. I customized the plastic drawers with some scrapbook paper that matches the changing pad cover. Add some double stick tape and these drawers look much more expensive than they actually were not to mention they are very functional!
I knew that I could make her crib mobile myself after I saw an example that I liked in a Pottery Barn magazine. To make the mobile, I took a Styrofoam wreath and painted it pink. I took long pieces of ribbon in all different patterns and colors and cut them all the same length and wrapped them over the top of the circle and glued them to the inside of the styrofoam wreath.
After the styrofoam was covered, I pressed some silk gerber daisies and leaves into the foam and secured them with glue.
To make a hanger, I tied 2 pieces of fishing line across the top of the wreath in an
X
pattern, then I gathered them at the center and put them through a silver d-ring to make hanging easy. My homemade baby mobile hangs over the changing table and keeps my daughter very interested while she is getting a fresh diaper.
To add more light and the illusion of space to Reagan's room, I bought a simple door mirror at Target for less than $5 ($4). I purchased 3M velcro strips used to hang pictures and attached the mirror to the wall under her window. This is probably one of the best things I have done in her room and it also helps me keep an eye on what she is doing. Now that she is crawling the mirror is her favorite part of the room. She plays in front of the mirror all the time. It reminds me of Alice and The Looking Glass.
The wall polka-dots are the defining feature in our baby girl's polka dot nursery . I bought them and found that them very easy to apply to the walls with the use of a dining room table chair as a ladder. The quick and easy application was a good thing since I was nine months pregnant at the time. The vinyl dots come in tons of colors, so you can mix and match any which way to get your desired look and feel. For us, it created a fun focal wall behind her crib!
Lastly Reagan's convertible crib was bought at JCPenny and her changing table was another Target purchase. In decorating for your upcoming blessing I suggest picking a theme you are passionate about as we were about Reagan's Lots-a-Dots polka dot nursery.
Decorating Tips
Unique Baby Gear Ideas
is a great resource for DIY crafts ideas with lots of pictures of decorated nurseries that will make searching for a style that you like more fun and the creativity flow much easier. Another suggestion that I would like to make is that when you are working on the design and layout of the space that you should keep in mind functionality and storage.
As your baby starts to become a curious crawler, you want fun things down near the floor for them to play with and all the things you don't want them getting into securely out of reach. I hope you enjoyed the tour of my nursery and I wish you "Happy Decorating"!