Fun Pregnancy Belly Painting Ideas
Pictures to Inspire the Art of Belly Painting

On this page you will find lots of pregnancy belly painting ideas to fill the moments between the positive pregnancy test and the baby's delivery.  The art of belly painting has never been more publicized than it is right now.  Expectant moms at full term are even showing up in the maternity suite with incredible artwork painted on their pregnant bellies for the medical team to enjoy!

The examples that we have to show you represent themes ranging from the parents' favorite cartoon characters and floral designs to fun belly painting ideas for Halloween, Christmas and Easter.
Many of the designs were done in preparation for maternity photo shoots.
Fun pregnancy belly painting ideas can be easily achieved using a kit.



Go here to the most popular choice in pregnancy belly painting kits as well as belly casting kits that can be painted, decorated and kept as a keepsake.

Oddly enough, our pictures of Halloween belly paintings are some of the most popular in our gallery.

Go here to see which paints are safe to use for your art and which ones to avoid at all costs!



Parents have sent in some rather frightening pictures of belly paintings featuring space aliens, monsters, bloodshot eyeballs.


There are also less horrifying designs where the rounded shape of Mom's beautiful tummy is put to good use as the foundation for a pumpkin belly painting.
Halloween is closely followed by Christmas in belly art popularity.
What could be more festive than a beautifully detailed Santa Claus picture painted on a pregnant belly?
Patriotic holidays present another opportunity to put the belly painting kit to good use and honor this great country and those who serve.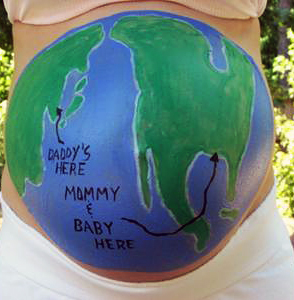 Pregnant ladies whose husbands are serving in the military start to search for patriotic pregnancy belly painting ideas close to the 4th of July holiday.
This creative mom came up with the idea to paint a world map that showed where the baby's daddy is stationed rather than a picture of the American flag on her pregnant belly.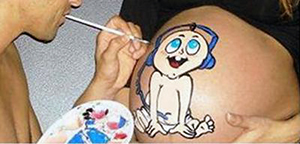 We have received pictures of belly paintings from all over the world including this one of a baby listening to music via headphones.
Darnial, the Australian dad-to-be, in the photo above is seen in the process of painting something unique on his wife's tummy in the third trimester.
Popular pregnant belly painting ideas for Easter can be as easy as dying eggs meaning that tummies can be the ultimate experience in egg decorating experiences.
Excited parents have sent a lot of amazing maternity art to
Unique Baby Gear Ideas
to inspire our visitors and you are welcome to take the challenge and upload pictures of your pregnant belly painting ideas using this form.
Your Pregnant Tummy Picture (Give It a Catchy Title)
Tell us about the painting


Example: Tell us how far along you are when the painting was done. What made you choose the particular design that you painted. Did you have a belly cast done as well?
See belly paintings sent in by others
Click below to see more pregnant tummy pictures