More Pregnant Belly Art
by Ben Lonrusten
(Drammen - Norway)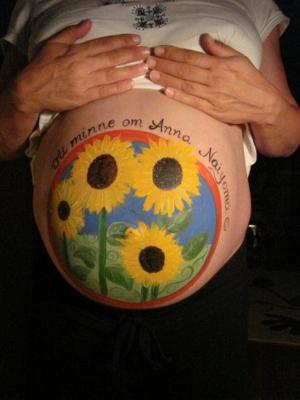 More pregnant belly pictures in our countdown - Sunflower tummy painting
As the clock is ticking and the days pass by we take a break every day to paint more pregnant belly art! My beautiful wife loves the feeling of the soft brushes tickling the skin of her tummy while I'm painting.


At the same time we get a special time with the coming baby. We talk, laugh and the baby reacts. As soon as I turn on the light, he starts to move.
When my beautiful Kenyan-Norwegian "sister" Ana Nayioma suddenly died last week, I made a painting in her memory.
Go here to
to see whether a pregnant belly painting kit would be the best option and price individual paints and brushes for your belly painting.
She was like field of sunflowers. Her skin was black as the flower's seed, her smile like the beauty of the bright colored petals. The green represents her power and strength. And we know that every seed contains the power to give life and bring more smiles.
The sunflower pregnant belly art that I painted as a memorial to Ana was painted while we listened to the song Malaika. Ben
From the webmaster:
Ben, your art is a lovely dedication to your friend. The fact that the translation of Malaika, is "angels" in Swahili and Arabic is especially poignant.
You are developing quite a following of your pregnant belly art here on
Unique Baby Gear Ideas
if the number of visitors I see visiting your pictures page is any indication.
I believe that they find your devotion to your wife and child as attractive as your artwork!
Please accept my sympathy on the loss of your friend, Ana.
All the best, Jan