Where in the World! CUTE PREGNANCY PICTURE
by Christy
(Biloxi, MS USA)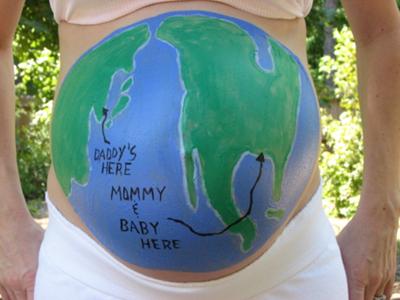 Where in the world! Patriotic world map pregnant belly painting designed by a mom whose husband was serving in the military during her pregnancy.
My name is Christy and my husband is Ryan. We met while on deployment in the Navy. After eight years I got out and followed him to Mississippi. In January we found out I was pregnant.

We were extremely excited, however Ryan was getting ready to deploy to Korea for eight months.


The picture above is of my belly painted like a globe that shows where Daddy is, and where Mommy and Baby are.
Go here to
see the choices in pregnant belly painting kits as well as belly casting kits.
You could say I have gone through this pregnancy alone. I habitually send him pictures to keep him updated.
Ryan will only be able to come home for the birth in October, and then must leave again until coming home permanently in February.
I wanted to do something that would capture the uniqueness of our situation and share it with
Unique Baby Gear Ideas
.