Aussie Pregnant Belly Art
by Jan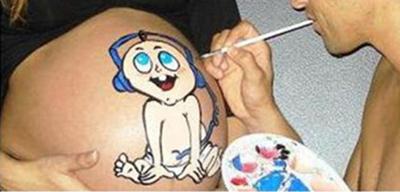 Darnial's Belly Painting when Conchita was approximately 35 Weeks Pregnant
Imagine my surprise to find this delightful "Aussie Pregnant Belly Art" delivered to me in an email this morning. The image of the laughing little cutie on mommy's tummy kicked my day off to a cheerful start!


How to Look Amazing in Your Maternity Picture
The message from the dad (who hails from Perth Australia hence the "Aussie" reference) indicated that the painting was done when his wife, Conchita, was 35 weeks pregnant.
We all are quite familiar with the pregnant belly paintings these days but my favorite artwork of all is that painted by the expectant dad. It just warms my heart to see a father-to-be taking such an interest in the pregnancy.
The talented painter dad, Darnial, says that he was inspired to pick up his paintbrush and start drawing on Conchita's tummy after seeing lots of belly art online.
After looking at all the bellies painted with bouncing babies, maps of the world, beach balls, etc. (and possibly even some of the pics were from this very website!) he wanted to create something uniquely his own.
And we are tickled that he is allowing us to feature his awesome
Aussie pregnant belly art
on our
nursery ideas
website because it's so darn CUTE!
By the way, Darnial and Conchita had their baby boy, whom they named J.D, on the 18th of May and the proud father says both mum and bub are doing well.
Congratulations to our new Australian friends on the birth of their son and thanks once again to them for sharing their creative art project.