PRECIOUS MOMENTS TWIN NURSERY BEDDING
by Pat
I am looking for Precious Moments twin nursery bedding for my fraternal twins. I wanted the room to have a Christian theme or perhaps a twin angels baby nursery theme.


A Noahs Ark theme with baby bedding featuring baby animals is also a possibility if I can't find the Precious Moments baby bedding that I want.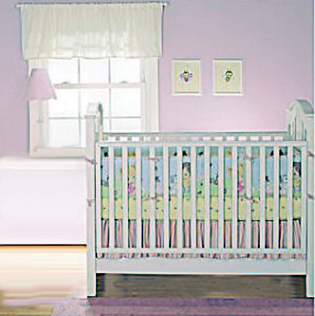 Go here to see more
more collections that offer both a pink and/or a baby blue option that would be perfect in a boy girl twin nursery room.
There is a line of Precious Moments collectibles called "Two by Two" that would make lovely themed decorations that might be added to any accessories that came with the baby bedding set.
Perhaps a baby girl's
Precious Moments baby bedding
set in pink for one crib and then buy one in blue for the boy's crib. You can get ideas from these
nursery pictures
in our gallery which include many designs shared by parents expecting multiples. If you find something that you like there are often shopping resources included or if the crib set was custom made the parents will often provide the name of the fabric they used for the nursery's curtains or other sewing projects.
Fabric panels can be used as wall hanging or to make a fast, easy baby crib quilt.
Thanks for visiting
Unique Baby Gear Ideas
, Pat!