Pink Personalized Nursery Curtains
by Kelly
Our baby girl's pink personalized nursery curtains are hung and we also have her crib ready and waiting for her to arrive. We had the window valance portion of her nursery curtains monogrammed with her initials. The monogram was embroidered in a color that would match her baby bedding set.


The room is almost ready for her to arrive on her expected delivery date of August 12th, unless she decides that she would like to be born before then which would be fine with us!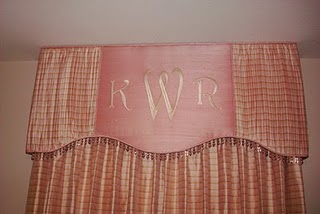 Go Here to See More
I haven't been very good about posting any of Kinley Reece's Nursery Pictures or posting in general on my blog, Waking Up With the Watsons http://wakingupwiththewatsons.blogspot.com, but here are a few pictures of her (almost finished) nursery and a few pics taken at a couple of my baby showers.
From the webmaster:
Thanks so much for telling our visitors about Kinley Reece's nursery decor. I love the way that you embroidered her initials on her window treatments! Did you have a local seamstress custom make your curtains and have them monogrammed at the same time or did you find someone online (fingers crossed that they take special orders!) that specializes in custom drapes to personalize them for you?
Just a few more questions...where did you get your drapery fabric, what are the colors and name of the pattern AND what is the name of the crib set that you bought? Which did you buy first? Did you choose curtains to complement the baby bedding or vice versa?
Again, thanks so much for sharing your lovely curtain and baby shower photographs with
Unique Baby Gear Ideas
and we look forward to hearing more from you!