Pink Curtains, Valances and Sheers with Ruffles for a Baby Girl Nursery Room
No baby girl's nursery or room is complete until there is a pair of pretty pink curtains hung at the windows. Take your pick of the pink sheer curtains, valances or drapes that block the sun or provide the utmost in privacy but to skip this crucial step in decorating a girl's room is unthinkable.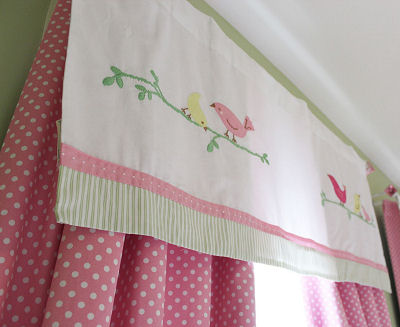 Pink Polka Dots Baby Bird Nursery Curtains
Moms with so little time to call their own may choose to buy ready made curtain panels that they can have in place in a jiffy while others may want to make their own window treatments from one of the many sewing patterns that are available.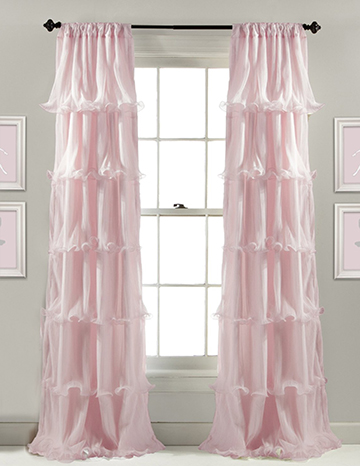 Go here to see more
floor length curtains with ruffles. These very feminine window treatments are total perfection in a girl's room especially when paired with elegant hardware that reflects the sparkle of the dresser drawer pulls.
If you find yourself somewhere in the middle; say, you can't find a good color match in ready made drapes it would be fairly easy to make a simple rod-pocket valance and the entire project from start to finish could be completed in a single afternoon!
PINK SHEER CURTAINS
If complete privacy and a total escape from the sun are not a goal or if you just can't find the right shade of color in medium weight fabrics, decorators often decide that pink sheer curtains are best for their needs.
A monogram on the window valance is a nice way to personalize curtain panels.
Often sheer fabrics that are semi-transparent which makes them easier to blend with even the most difficult to match baby nursery ideas. These lightweight fabrics offer some privacy while still allowing light filter into the room and often have the characteristic of picking up slight touches of color from their surroundings. Fabrics for sheer pink curtains can be found in delicate shades that will give any room a feminine touch. You can make the sheer pink curtains in any length that you need. Perhaps a simple window scarf is all that you need or you might consider layering pink sheer curtains with full-length curtains made from a heavier material which can be closed in the evening for complete privacy. With this technique, you get the added bonus of insulating the room against cold outside air.
If you are shopping for a girl's pink baby nursery curtains, you might consider shorter length window treatments for safety reasons. Tiers and valances are very often the style of choice for baby's rooms because of their shorter length. Short window treatments made from sheer fabrics are often trimmed with ruffles, lace or other decorative trims.
How to Make Sheer Ruffled Curtains
If you plan to make your own sheers, look for lightweight voile and batiste fabric. Batiste has a distinctive weave while voile fabrics have a very fine weave and glowing surface. Either of which would be a wonderful choice when choosing pink curtains for a girls room or to use when decorating a pink baby girl nursery.