Rustic Patchwork Crib Bedding for Baby's Nursery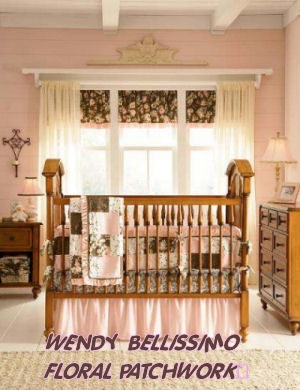 Patchwork crib bedding has been around a long time since the early days when fabric was so precious that moms felt the need to put every available scrap of material to good use. Quilt fabric was expensive and very hard to come by so making a patchwork baby blanket and quilts was a necessity that doubled as both an art form and a social activity. In the modern world, quilting is still a means of artistic expression but there are fewer moms that quilt due to job pressure and lack of time.

Even though modern ladies have little time to spend gathered around the quilt frame, the popularity of patchwork crib bedding is still going strong!
Quilters are still recycling leftover scraps of cotton fabrics and it's common to see a quilt made from fabrics cut from anything from a plaid work shirt to blue jeans. Frugal moms save lots of money by saving good pieces of cloth from their family's clothing and discarding the worn, frayed pieces. This is a very smart way to make their stash of fat quarters go further and every quilter I know is of the mind that you never know when you might have need of a vintage print in a particular color when sewing a patchwork crib quilt.
PATCHWORK BABY BEDDING for GIRLS
The beauty of making a baby blanket and bedding out of a combination of colors, fabrics and prints is that you not only have an original, one of a kind crib set. For instance, store bought crib sets most often focus on one particular theme and fabric pattern whereas an accomplished artist can design a custom patchwork crib bedding set that successfully mixes and matches several themes in a stylish manner.
As an example, a rose patchwork crib bedding set might include some vintage Winnie the Pooh toile fabrics side by side with pink and white shabby chic floral fabrics. The benefit of this combination is the opportunity for diversity in your baby girl's nursery design. There is no good reason to settle for one or the other. Plus, the feeling that you are living in an overturned flower basket or drowning in shades of pink flowers is virtually eliminated with the use of carefully selected alternating quilt fabrics that each serve to balance the other.
BABY BOY CRIB BEDDING SETS
The same themes that are popular in commercial baby boy bedding sets really come to life through the coordination of plaids, stripes and solid blue denim and themed print fabrics. If daddy wants a nursery for his newborn son that is based on his favorite sport and mom is somewhat less than enthusiastic about missing out on her one chance to decorate a bedroom for her little boy in something other than footballs, soccer balls and hockey pucks; patchwork may be the best possible option. Design your patchwork crib bedding sets with every other square in a fabric that daddy loves and color coordinate the rest in prints that mom can live with like a Winnie the Pooh patchwork crib set.
Patchwork baby bedding has always been about creating unique blends of color and style whether out of necessity or design. Patchwork baby bedding sets are not just about keeping an infant warm these days. They may be the best way for parents to compromise on the best nursery design for their newborn.
Return to see Baby Nursery Ideas and tips on how to display your homemade patchwork crib bedding to its best advantage and to find more information on rustic and country baby nursery themes where patchwork crib bedding sets really shine.