Tree and Owl Nursery Decals - Easy Decor for the Walls of a Baby Girl or Boy's Room
We have examples of arrangements of owl nursery decals on the walls of nurseries decorated for baby boys and girls featured in pictures shared by the amazing moms and dads that visit our website.



They have used stickers in all sizes, shapes and colors depending on the size of the room they are decorating with great results. The wonderful thing is that the cute owl stickers are cheap AND cover a lot of wall space for a very cheap price.



They definitely don't eat up your decorating budget as quickly as a professionally painted mural.




How to Use Owl Nursery Decalsto Decorate a Nursery for Baby
Pink owl stickers added to an ivory or white tree wall decal is perfect for a baby girl's room.
Pink owl wall stickers are certainly "all girl" but there are some cute collections out there for boys, too.
Solid white stickers really stand out on a baby boy's navy blue nursery wall.
A wall decal featuring a daddy and baby owl perched on a tree branch can be personalized with a baby boy's name.
The
Personalized Happy Owls Wall Decal
can be customized to reflect the nursery's color scheme. There is room to add your baby boy's name in masculine fonts, once again, in any color you choose as well as a few lines of a short poem or a favorite saying or quote or a single inspirational word like "Love" or "Wisdom".
There are are also collections that feature owls and other beloved forest creatures as well as trees in their natural colors.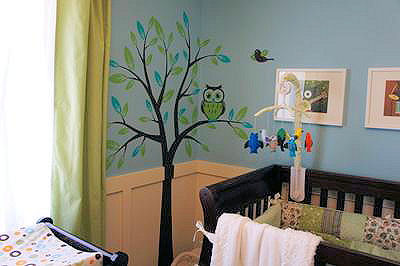 Owl Theme Wall Decals
An owl perched on the branches of a tree surrounded by birds and animals of the forest make a lovely display on a baby's wall.
There are options for parents decorating a small nursery with very little wall space.
A couple of "little hoots" may be all that's need to fulfill your decorating needs.
Please make plans to visit Unique Baby Gear Ideas again soon to see more cute owl decals that you can use to decorate the walls of your baby's room.