OWL NURSERY WALL DECALS
by Helena
The cute pastel stickers in your pictures are cute owl nursery wall decals, but when I looked at them I realized that they might clash with my color scheme. Then I looked and found these owl stickers that you can have custom made in any color that you might need to match your owl crib set or any other kind baby bedding for that matter.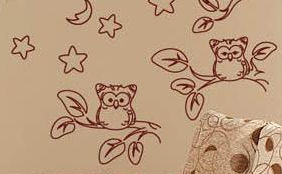 GO HERE TO SEE MORE
Before I found these, I considered a large owl in a tree that came in black. Black wouldn't fight with the colors in my baby bedding but they didn't really strike me as the best choice for
owl nursery wall decals
either. I wanted something soft and colorful, like the ones you listed, but I needed decals in neutral colors...just not black.
I played with the idea of creating a large wall mural with both these and the large black owl tree decals. I thought the neutral colored cutouts would lighten things up enough that I would like it, but I think I'm just going to go with these over the baby's crib because the other stickers seemed more for a teenage girl's room than a baby's.