Cute Orange Baby Bedding for a Crib in a Baby Boy or Girl Nursery Room
An orange baby nursery with orange baby bedding might not sound very appealing BUT..imagine an orange nursery in orange and pink, aqua or even a color scheme of orange and brown and then the idea of decorating a baby's room in this highly controversial color starts to become rather intriguing!



Visitors Who Like This Page Also Enjoyed these Pages:

Orange Baby Nursery Ideas

Orange Baby Boy Nursery Theme

Orange Nursery Wall Ideas



Most of us don't consider decorating any room in orange outside of the fall months of October and possibly November when pumpkin decorations are a common sight. With citrus colors gaining in popularity, color combinations that include this bold color are gaining traction and modern parents are decorating orange baby nurseries more than ever before.





SEE MORE HERE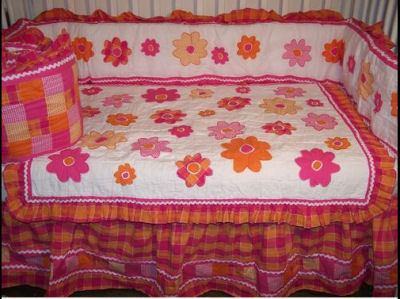 The reason for my reluctance stems from the old fashioned idea that pumpkin orange is not a flattering color when worn close to the face. And while we may not wear the curtains and crib bedding we pick for the baby's nursery; the decor in our homes is always there in the background and either consciously or subconsciously we decorate our surroundings to show us in our best light. Some parents prefer cool colors and others lean towards the warm side of the color wheel where red and orange rule the roost.
Generally, when searching for a warm color to include on my project board shades of red tend to take center stage because it is such a user friendly color with undertones that make it so easy to find paint and decor to show it off to full decorative potential. For those same reasons, orange baby bedding sets are not something I see very often. Plus, at the mention of orange baby decor and crib bedding to a client I can expect a raised eyebrow and that look that tells me that promoting the idea of an orange baby nursery is not going to be an easy sell.
ORANGE BABY BEDDING AND NURSERY DECOR FOR GIRLS and BOYS

ORANGE NURSERY IDEAS FOR BABY GIRLS
After all, orange and black is a color combination we associate with Halloween, right? True enough, but lately I've seen some pretty cool orange baby bedding sets that leave black out of the fabric pattern altogether. The best example that comes to mind are the pink and orange baby rooms that are amazing in a baby girl's tropical or Hawaiian theme nursery. Imagine an orange baby nursery decorated using tiger lily print fabrics for color and tiki hut style raffia decorations to bring in a neutral color and texture reminiscent of the beaches found on the islands in Hawaii.
If you find the idea of decorating the nursery with orange baby bedding in a beach theme less than appealing, would you prefer polka dots or stripes? Baby bedding or decorations covered in pink and orange stripes or pink and orange polka dots would be so cute for a baby girl's room. Work in some accent colors of teal blue or grass green and you will be amazed at the fresh and exciting look of your baby's room.
DECORATING ORANGE NURSERIES FOR BABY BOYS
A set of solid color burnt orange baby bedding would not be much fun no matter how cool it looks as part of a brown and orange nursery color scheme. The good thing is that there are several popular baby boy room themes that have nothing to do with Halloween pumpkins or scarecrows that will work nicely when done up in shades of orange. Three themes that stand out that are currently available in fabrics that have touches of orange are robot bedding, outer space bedding and modern bedding sets with abstract shapes that feature this color as an accent to basic black, gray, brown and possibly green.
As you can see, there are many decorating possibilities for orange baby bedding sets that have yet to be explored that are anything but spooky and associated with Trick or Treat.
If you have any pictures of orange baby nurseries or orange baby nursery ideas to share, please use the form provided on this page and join the growing number of friends of Unique Baby Gear Ideas!
SHARE YOUR ORANGE NURSERY PICTURES
Share pictures of cute, orange nurseries!
PRECIOUS ORANGE BABY NURSERY PICTURES
CHECK OUT THE CUTE NURSERIES DECORATED BY MOMS JUST LIKE YOURSELF!

Orange Baby Room Ideas Not rated yet
These photos are full of modern orange baby room ideas for moms decorating a nursery for a baby girl or boy. This particular nursery features touches …