Orange Nursery Wall Ideas
by Lee
I searched through lots of nursery picture galleries to find the best orange nursery wall ideas and finally found a precious picture of an orange wall decorated with this bird design. It reminded me that keeping it simple often gives the best results. The example proves that one focal point may be all that's necessary.

GO HERE TO SEE MORE!
I wanted to share this with other moms that might be looking for orange nursery ideas (actually it would work with any color) because it shows what can be done with solid color walls and that you don't have to commit to elaborate painted designs to have a stylish nursery for your baby.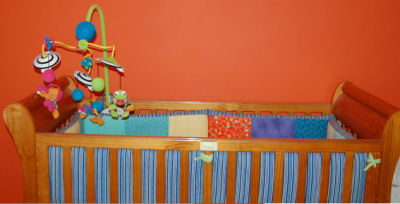 Here's a picture of the crib set and mobile that was in the baby's room where the solid orange wall and decals were used. There's not a lot of orange in the patchwork design but then with that much orange in the room, an
orange baby bedding
set would have been too much.
This plain, orange
nursery wall
was given a completely new look for just a few dollars using
bird wall decals and stickers
in just a few minutes. And aren't those little chirpers just darling? If anybody knows a resource for the little bird stickers I would appreciate it if they would post it here.
From the Webmaster:
Hi Lee!
I agree that the blue striped bedding and bumper pad with just that touch of orange looks super with the solid orange wall and navy blue birdy decals.
Please return to
Unique Baby Gear Ideas
and post a source for your orange nursery pictures so that I can give credit?