Orange Baby Room Ideas
by Jan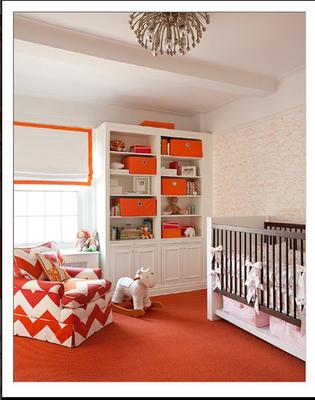 Pink white and orange baby room for a girl with a nursery chair upholstered in orange and white chevron fabric.
These photos are full of modern orange baby room ideas for moms decorating a nursery for a baby girl or boy. This particular nursery features touches of pink but you might just as easily replace those feminine touches with navy blue or green if a gender neutral design is preferred.






Go Here to See More
The space was originally decorated as a television room until there was a need to make a transition to a
baby girl nursery
. The unique
anemone ceiling light
as well as the comfortable nursery chair with orange and white
chevron stripes
upholstery and the area rug were all "keepers" from the TV room and most likely were the inspiration for Lilly's
orange baby room ideas
.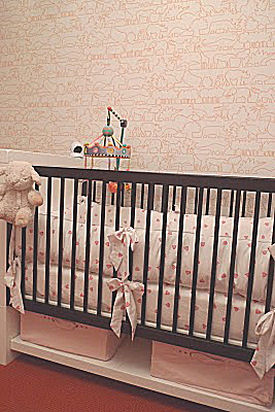 All Photos Via Lilly Bunn Interiors
The contemporary style of the
Maclaren Moderne Crib
is the perfect complement to the fine Porthault crib linens.
Just so you know, the Babyletto collection has something similar for those of you who are looking for a less expensive, budget friendly version of this crib.
The orange and white Stark Wallcovering is the perfect backdrop for the white and
orange baby bedding
. The wallpaper is covered in orange line drawings on a white background including a wide variety of prehistoric dinosaurs as well as jungle animals surrounded by palm trees adding an atmosphere of fun without being too overpowering.
The orange and white armchair upholstered in a bright chevron print fabric provides a comfortable place for mom and baby to enjoy a book.
Both the chair and the area rug play a key role in defining the style of the nursery's decor.
The bright pink of the Jonathan Adler framed silhouette and the hot pink cover centered on the Duc Duc changing table are perhaps the primary hints that this room was designed for a baby girl.
Thanks to Lilly Bunn Interiors for sharing her orange baby room ideas with visitors stopping by
Unique Baby Gear Ideas
looking for tips on how to decorate a nursery for baby in style. This room is an excellent example of how to decorate using items that are already onsite so that we might have some room in the budget for a few splurges here and there.